Whether it is a cold winter day or the middle of the summer, this veggie-loaded Turkey Chili is the perfect dinner!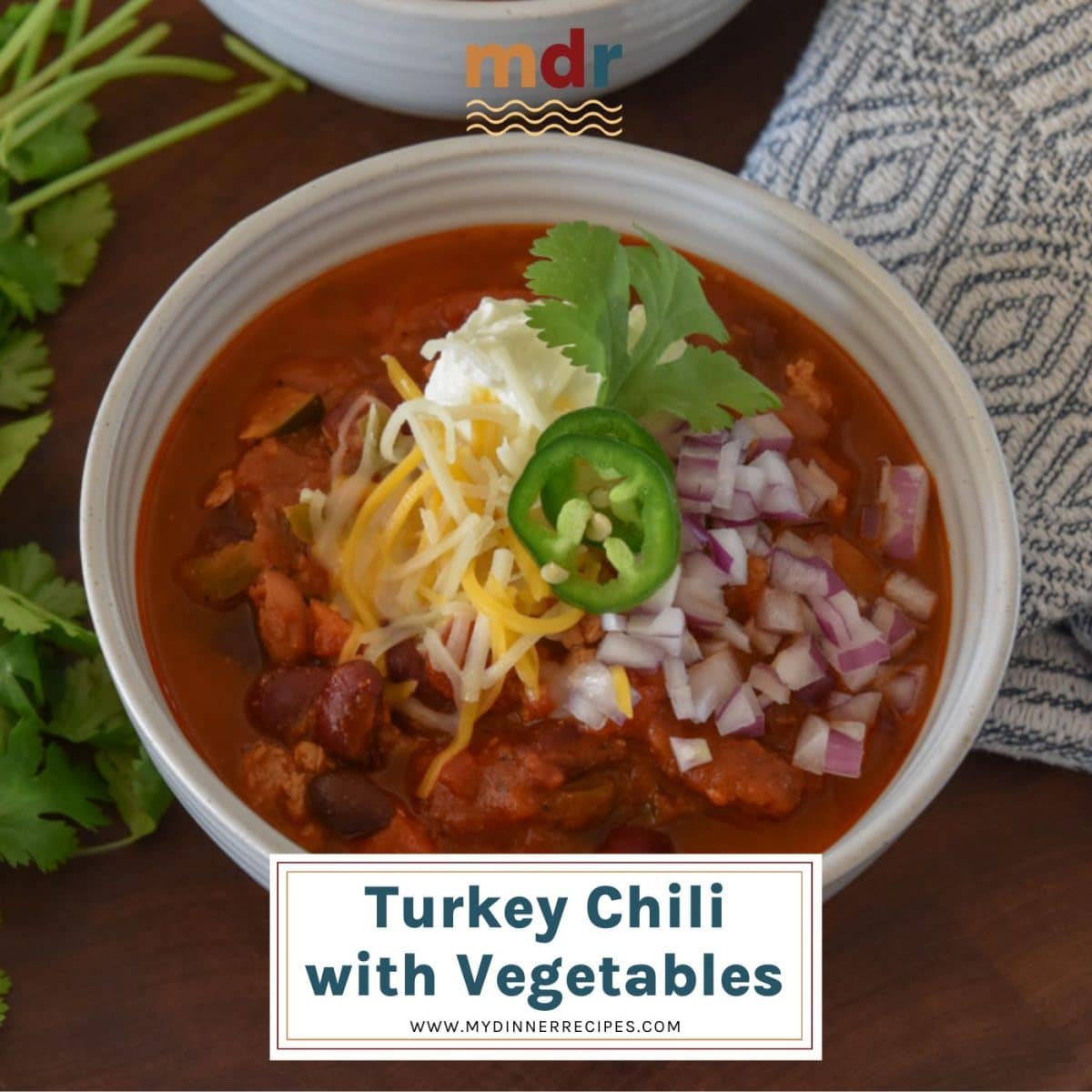 Before I knew how to cook, chili was a dish I could manage to make with little or no recipe. Over the years, I tinkered around each time I made it and recently, I took the time to write down the version I landed on.
I have no doubt you will absolutely love it!
Why You'll Love My Turkey Chili with Vegetables
Chili doesn't have to be an absolute gut bomb. My turkey and vegetable chili is hearty, packed with nutrients, and doesn't make you feel like you can't move.
Easy to Make – The list of ingredients may seem long, but it is essentially a dump-and-stir recipe that is ready in about an hour!
Great Leftovers – This chili makes a good-sized batch (unless you are feeding a football team) and the leftovers are great for workday meals or for freezing.
One Pot – I think we can all appreciate the lack of dishes that come with a one-pot meal.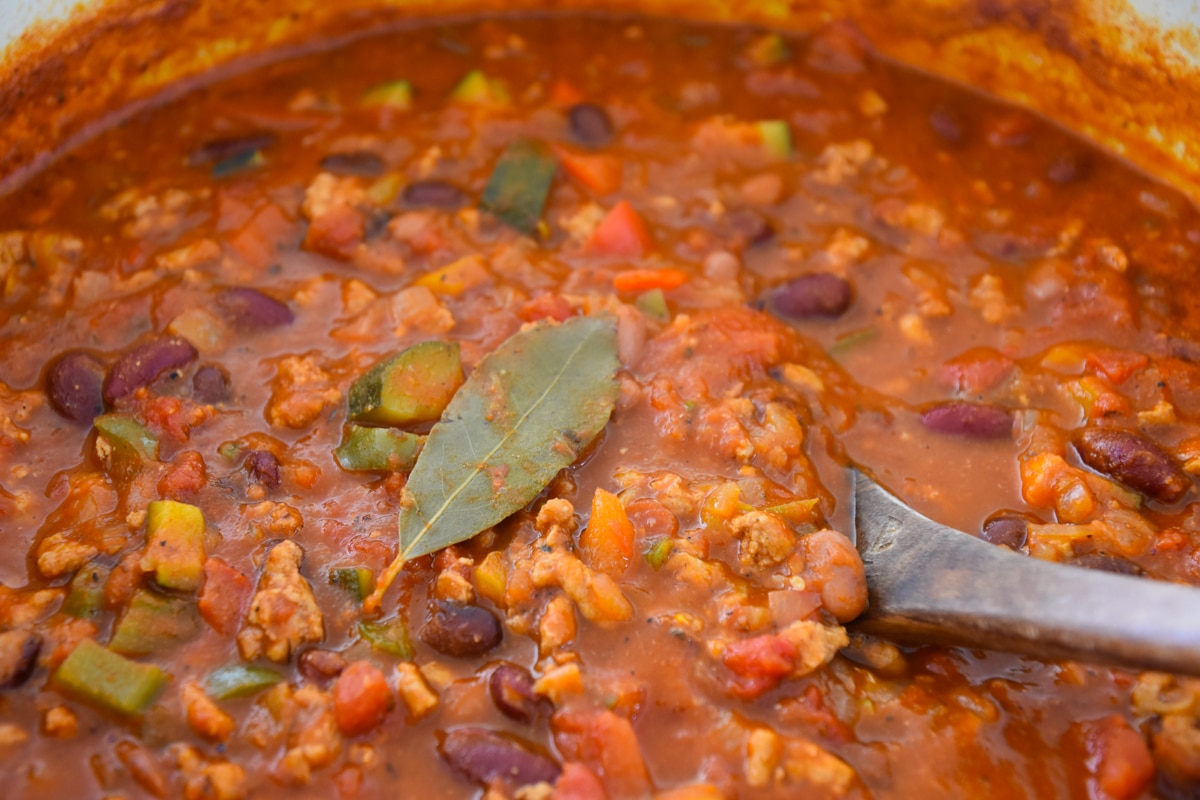 What is Turkey Chili with Vegetables?
Think of my chili as a hearty tomato-based chili featuring ground turkey, bell peppers, zucchini, onion, garlic, jalapeno, three kinds of beans, and a whole host of spices.
It is a fan favorite because of the toppings bar. By serving it with a bevy of delicious toppings, everyone at the table can make it just how they like it.
Ingredients
The list may seem a little long, but you will quickly see how easily it comes together. Recruit the family to help cut down on prep time!
Olive Oil – A nice neutral oil to get your ingredients cooking. Any neutral oil – think canola or vegetable are great and olive oil works too.
Ground Turkey – Light meat or dark meat work wonderfully. Choose your favorite.
Green Bell Peppers – Crisp, vegetal, and slightly grassy in flavor. Did you know that this is the unripened fruit from this plant?
Yellow Bell Peppers – Crispy and sweet, these are the mature fruit of the bell pepper plant.
Red Bell Peppers – This type of bell pepper has spent the most time on the vine before they are picked and are the most nutrient-dense of the three. They are mild and sweet in flavor.
Yellow Onion – These have a high sulfur content and tend to bring the most pungency in the onion world. Perfect for chili!
Zucchini – These hold a lot of water naturally so don't be surprised if the veggie mix gets a little watery as it begins to release it. It will evaporate as it cooks!
Garlic – I LOVE garlic and its flavor here really mellows and sweetens as the chili cooks.
Jalapeno – No two jalapenos have the same amount of heat. Give your raw jalapeno a taste before adding it to see where it is on the spicy scale.
Whole Peeled Tomatoes – Come whole but will break down as they cook. If your can has a basil leaf in it, go ahead and discard that.
Diced Tomatoes – I like using two types of tomatoes because some completely break down and thicken the sauce while others give you a great bite.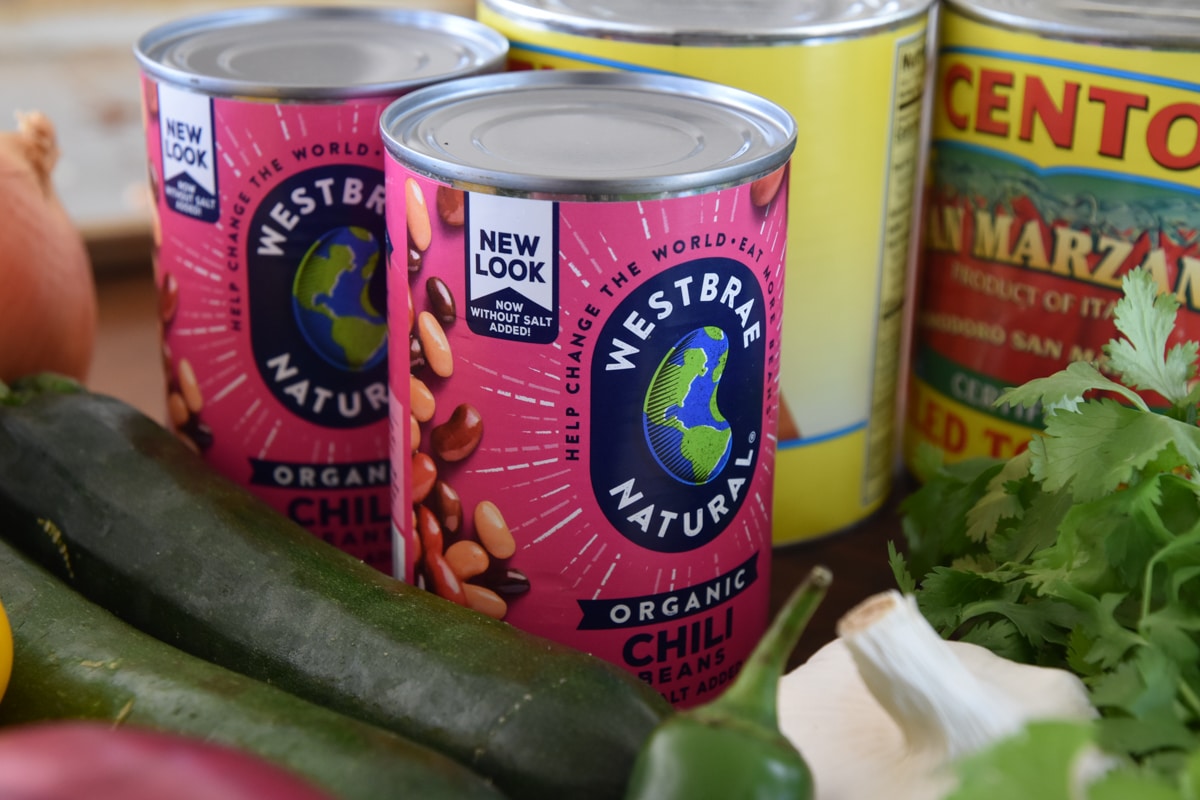 Chicken Broth – Why use water when you can add flavor with chicken broth?!
Dried Oregano – Will infuse the chili as it cooks with an earthy and slightly bitter flavor.
Chili Powder – Contrary to popular belief, chili powder is a mix of different spices. Try different brands to find your favorite as they will all have different ratios and flavors.
Ground Cumin – Made from ground cumin seeds it lends a warmth and citrusy note.
Ancho Chile Powder – Gives great color, some subtle sweet heat, and a depth of flavor that is amazing for chili.
Cayenne – If you want to crank the heat, here is where to do it.
Bay Leaves – Often forgotten, but so important when cooking soups and stews. One or two of these in a long cooking dish help to keep it from being too heavy by adding hints of earthiness and black pepper. Always remove them before serving and eating!
Canned Beans – I love the trifecta of kidney, black, and cannellini beans for color and texture, but use any three (or any one kind) that you love here. Drain and rinse well.
Coarse Kosher Salt – The large grains of this salt help to enhance flavors in your dishes instead of making a dish salty.
Freshly Ground Black Pepper – Can't say it enough – a peppermill and whole black peppercorns are a great investment in your cooking. Pre-ground pepper is often stale and lacks the, well, pepperiness, you are looking for.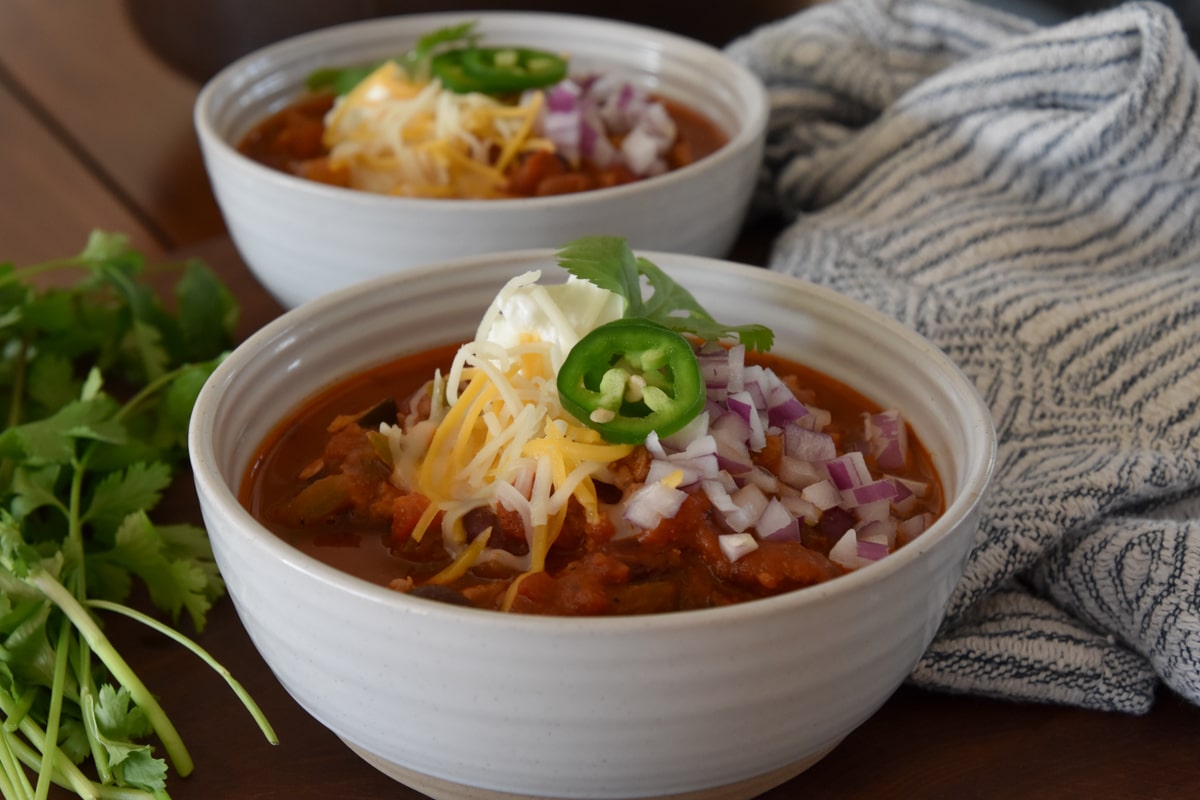 How to Make Turkey Chili with Vegetables
This chili is fantastic because you spend a little time prepping and cooking, but the majority of the time is allowing the flavors to cook and meld on their own.
Cook the turkey. Use a heavy-bottomed pot or Dutch oven if you have one. The even heat is great for the long cook time and preventing things from burning. Cook the turkey until it is in little bits, cooked through, and lightly browned.
Sweat the vegetables and spices. This step is a dump and stir. The goal is to get most of the water out of the vegetables and allow them to soften. It is called "sweating" the vegetables. Adding the spices at this stage gives them a chance to start sharing their flavors early on.
Add the tomatoes and liquids. Use your spoon to break up the whole peeled tomatoes a little. They will continue to break down on their own, but giving them a little help never hurts.
Add the beans and season. I add the beans last to warm them and keep them whole and delicious. Always season your soups, stews, or chili last so it doesn't end up too salty as it cooks down.
Don't forget the toppings! Serving chili without toppings would be sacrilege. Be sure to include some cheese and onions at the bare minimum.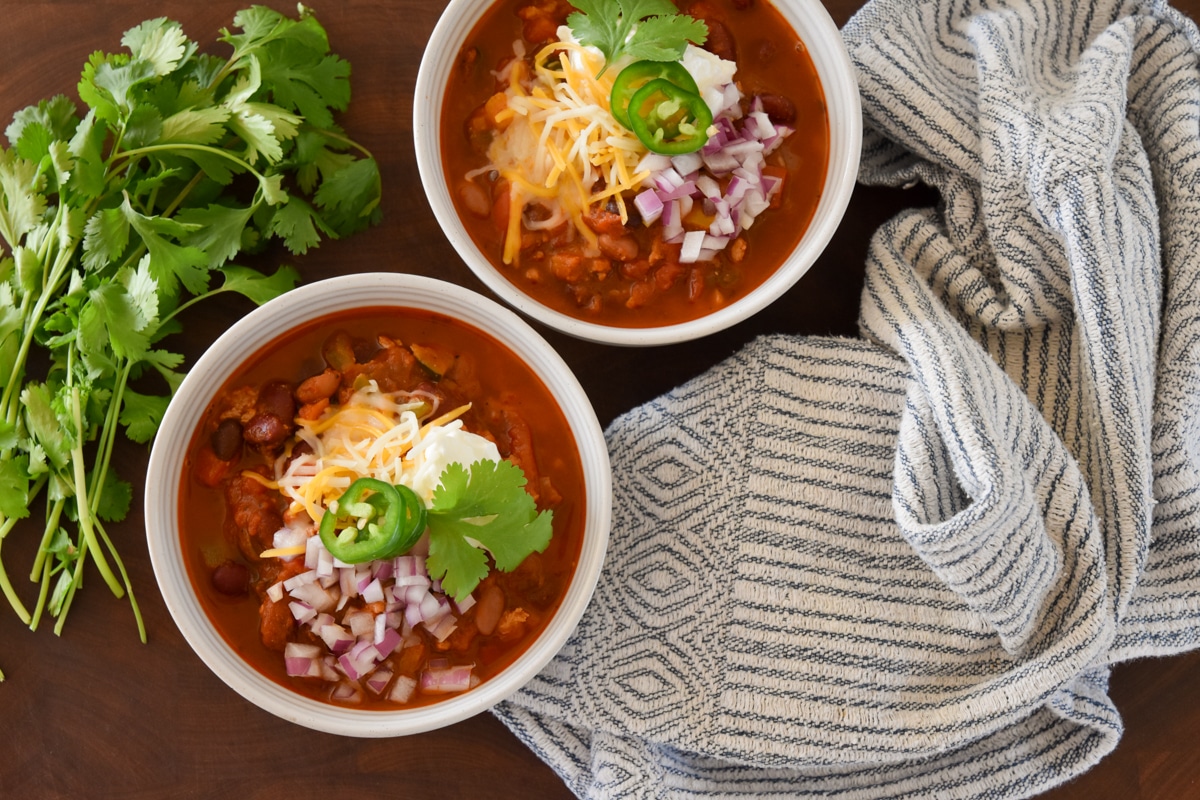 What to Serve with Turkey Chili
Turkey & Vegetable Chili is great with so many things, but here are a few ideas to get you going: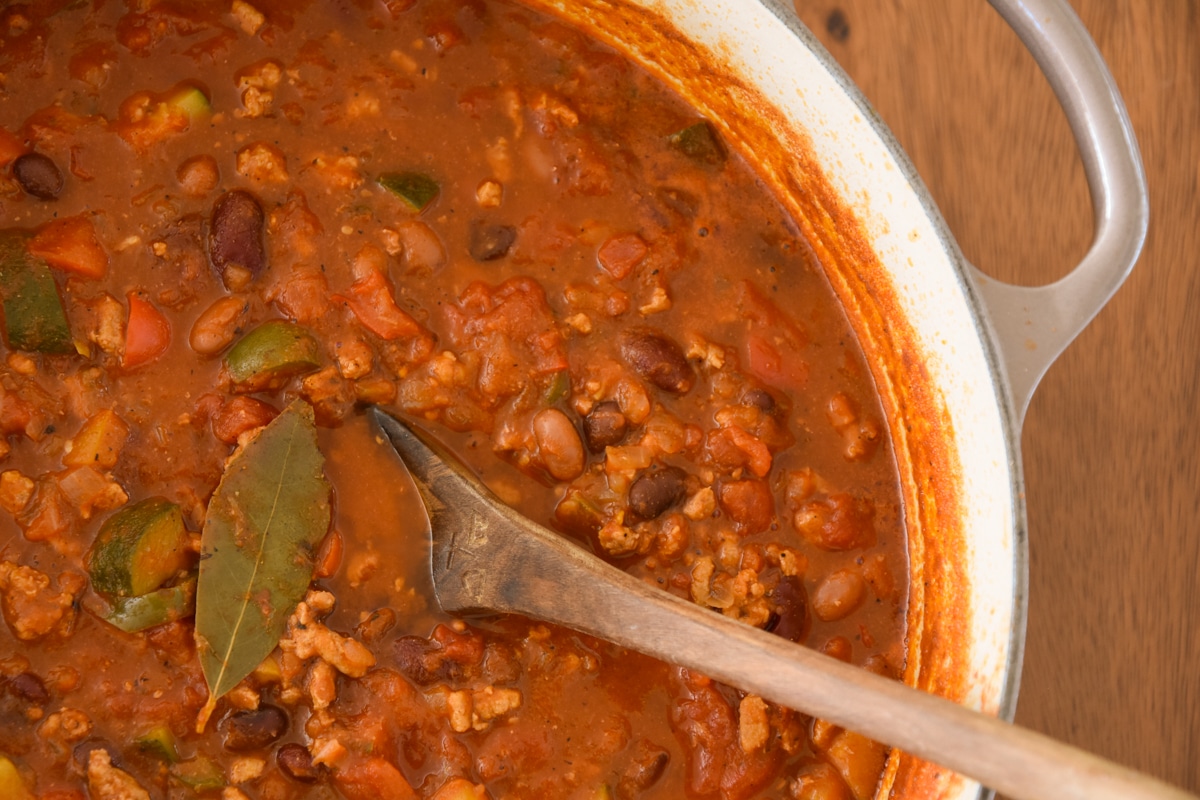 Variations
This recipe is great for when you need a change up or want to riff a little.
Beef or Chicken – If ground turkey isn't your favorite protein, consider swapping it out for ground beef or ground chicken. For beef, you may need to skim some of the fat before adding the vegetables.
Change Up the Veggies – Don't have all the veggies listed? Not a problem! I have added more or less of each and still ended up with delicious chili. So if you have three green bell peppers and some carrots hanging out in the fridge, feel free to add them in.
Change Up the Toppings – Each and every bowl of this chili can be a choose-your-own-adventure meal for everyone in the family. I like to create a toppings bar so everyone can doctor up their bowl as they see fit.
Spice It Up – If you crave heat but not everyone in the house does, you can top this recipe with fresh chiles or hot sauce. Should everyone be a heat freak, add a few more chiles with the rest of the vegetables OR add a few more pinches of cayenne.
Storage & Freezing
Storage: I like to store this in 8oz single-serve containers for easy reheating, but use what you have in your cupboard as long as it is airtight. Will keep in the fridge for up to a week.
Freezing: This makes a big batch and if you aren't feeding a big group, you might not eat it all in one go. Thankfully, it freezes and reheats exceptionally well. Transfer it to an airtight container and keep it in the freezer for up to 3 months.
Questions About Turkey Chili with Vegetables
Is turkey chili better for you than beef chili?
I do not get into the habit of telling you what is or is not healthy for you, because I love to indulge. That said, when it comes to fat and calorie content, this turkey chili definitely comes in leaner. And with this recipe, you have the added benefit of loads of veggies.
Is turkey chili with beans good for you?
Yes! This recipe touts a lean protein paired with a trio of protein-packed legumes and a host of vegetables. As long as you don't go overboard on decadent toppings, turkey chili with beans is good for your body and your soul.
What vegetables can I add to chili?
There are a lot of vegetables that are great in chili. Personally, I am a fan of onions, carrots, bell peppers, tomatoes, and zucchini. Yellow squash, celery, and even sweet potatoes are hearty enough to add to certain chili recipes.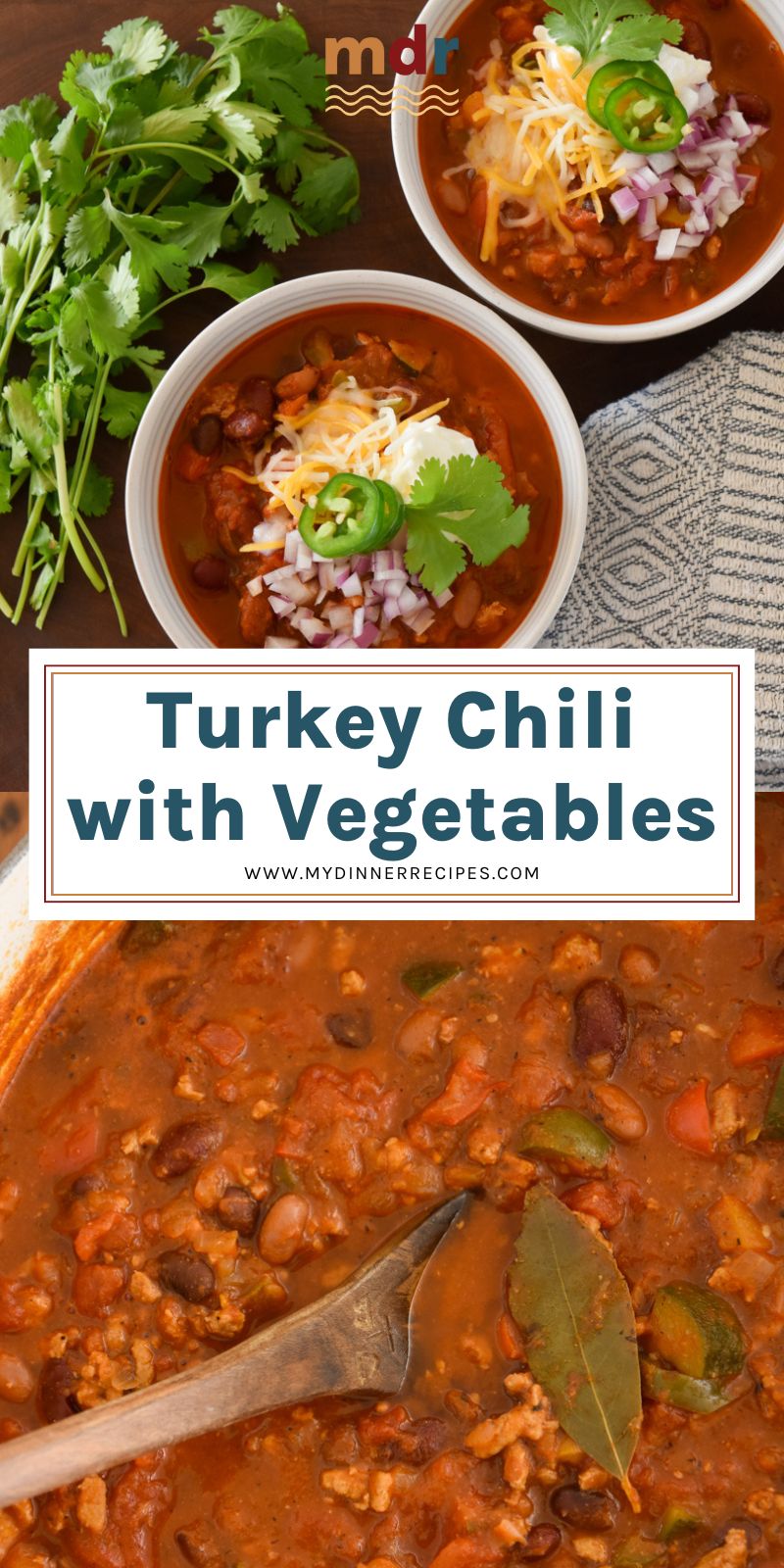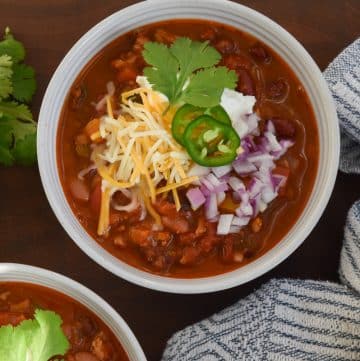 Turkey Chili with Vegetables
A hearty one-pot turkey chili featuring bell peppers, zucchini, onion, garlic, jalapeno, three kinds of beans, and a whole host of spices.
Ingredients
2

tablespoons

olive oil

plus more if needed

1.5

lbs

ground turkey

1 large

green bell pepper

chopped into bite-sized pieces

1 large

yellow bell pepper

chopped into bite-sized pieces

1 large

red bell pepper

chopped into bite-sized pieces

1 large

yellow onion

chopped

2

zucchini

5-8

cloves

garlic

minced

1

jalapeno

deseeded and minced

1

28oz can

whole peeled tomatoes

1

15oz can

diced tomatoes

2

cups

chicken broth

1

tablespoon

dried oregano

3

tablespoons

chili powder

2

tablespoons

ground cumin

1-2

tablespoons

ancho chile powder

1

pinch

cayenne

2

bay leaves

3

15oz cans

beans

drained and rinsed (kidney, black, and cannellini are great)

coarse kosher salt

to taste

freshly ground black pepper

to taste
For Serving (optional):
raw red onion

chopped

sour cream or Greek yogurt

shredded mexican cheese blend

lime

cut into wedges

cilantro

chopped

jalapeno

sliced

hot sauce
Instructions
Heat oil over medium-high heat in a large, heavy pot. Add the turkey and cook until lightly browned, 5-10 minutes. Use your spatula to chop down to bite-sized pieces as you go.

Add the bell peppers, onion, zucchini, garlic, jalapeno, and spices. Sweat down, another 5-10 minutes. If things look a little dry, add 1 tablespoon of additional oil.

Add the peeled and diced tomatoes along with the chicken broth and bay leaves. Bring to a boil, reduce to a simmer, and allow to cook for 15 minutes so flavors can meld.

Add the beans and cook for another 10 minutes or so. Season with a big pinch of salt and a few grinds of pepper. Give it a taste and repeat with salt and pepper as needed.

Build your bowl of chili with your favorite toppings and enjoy!

If you've tried this recipe, come back and let us know how it was in the comments or ratings.
Nutrition
Serving:
1
bowl
Calories:
218
kcal
Carbohydrates:
14
g
Protein:
30
g
Fat:
6
g
Saturated Fat:
1
g
Polyunsaturated Fat:
2
g
Monounsaturated Fat:
3
g
Trans Fat:
0.02
g
Cholesterol:
64
mg
Sodium:
448
mg
Potassium:
844
mg
Fiber:
5
g
Sugar:
5
g
Vitamin A:
2556
IU
Vitamin C:
98
mg
Calcium:
85
mg
Iron:
4
mg