Plain old grilled corn on the cob can be so ho-hum. But doctor it up with some mayo, cheese, and spices, and now you're talking! Taking inspiration from Mexican elote, this Chipotle Grilled Corn is soon to be a household favorite.
I absolutely LOVE firing up the grill. And when it's the height of corn season, throwing a few cobbs over a flame is a great (and easy!) way to complement a meal.
This version of corn on the cob is sweet, it is spicy, it is tangy, and it is downright delectable. It's a good idea to add a few extra ears to the grill because my friends and family often go back for seconds.
Why You'll Love Chipotle Grilled Corn
I am not reinventing the wheel here. This type of dish has been around for ages and for good reason!
Tastebuds – Your mouth and the mouths around you will be downright giddy when you take your first bite.
No real recipe – This recipe is more of a guideline than anything else. Feel free to add more or less of anything based on your family and your guest's preferences.
Finger food – Eating with your hands is one of the simple joys in life. Just be sure you have copious amounts of napkins on standby.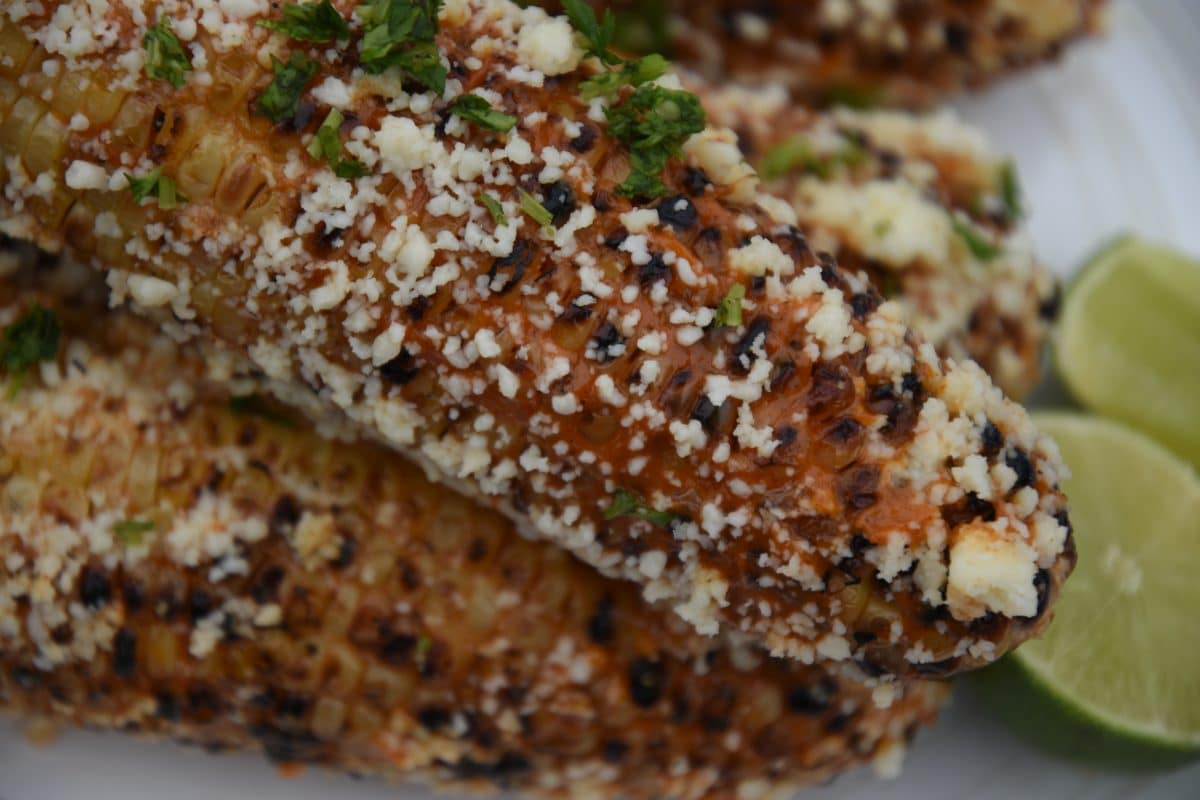 What is Chipotle Grilled Corn?
This dish is inspired wholly by the Mexican dish called, elote. It is sometimes simply referred to as Mexican street corn. Whatever the name, it is wildly delicious.
Most commonly ears of corn are slathered with a mixture of mayo, crema and/or sour cream and then sprinkled with chili powder, a salty, crumbly cheese called cotija, and given a squeeze of fresh lime juice.
This Chipotle Grilled Corn is the same idea only I like to skip a step and use a flavored mayonnaise. I char the heck out of the corn on the grill. Then I slather it with a chipotle mayo (jarred), give it a good coating of cotija cheese, a sprinkle of fresh cilantro, and serve it with lime wedges.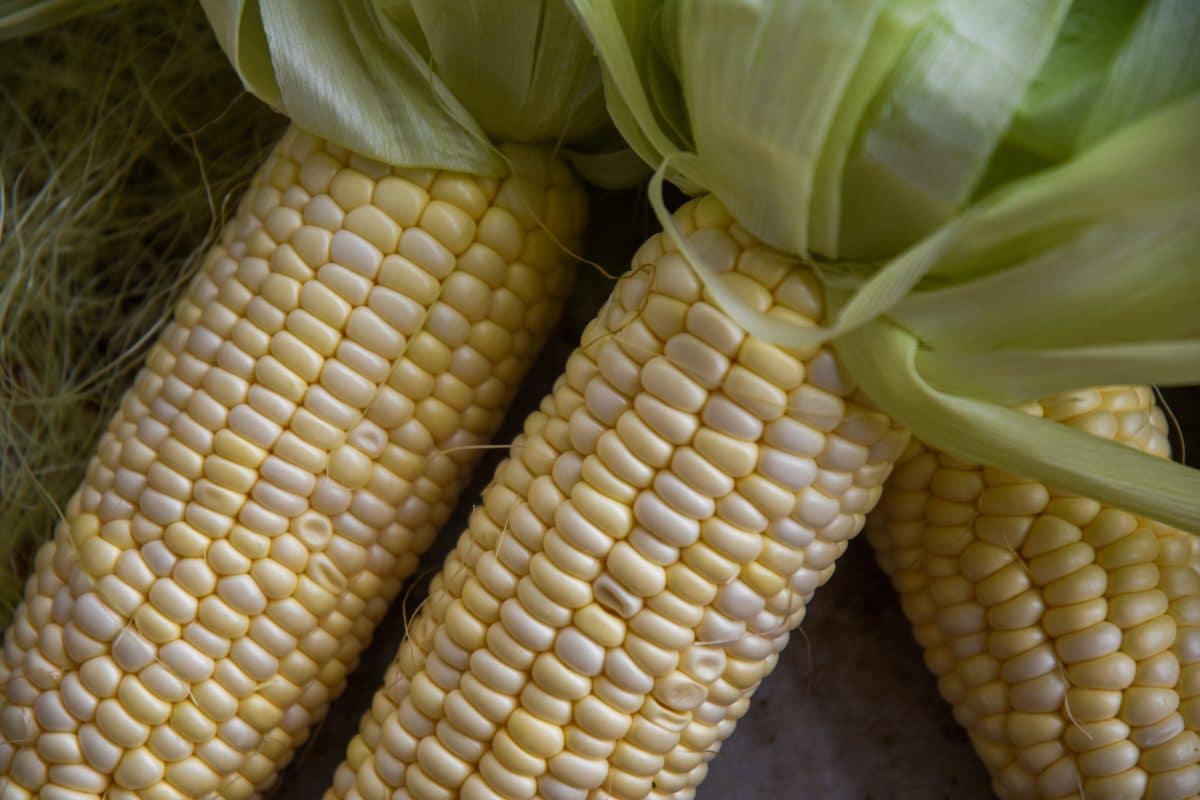 Ingredients
With just a short and sweet list of a handful of ingredients, you can make this dish at home.
Corn – By me, it is all about sweet white corn, but use whatever corn is prevalent by you. The husk should still be on as this will turn into your corn holder later. Be sure to choose corn that has a bright green husk that is still tight around the cob. This means they are fresh.
Chipotle Mayo – This is not a paid advertisement, but goodness gracious Sir Kensington's Chipotle Mayonnaise is something else. I highly recommend it, but there are many brands that make it so choose your favorite.
Cotija Cheese – Purchased in a wheel or pre-crumbled, this cheese is salty and perfect with sweet corn. Flavorwise, I would say it is like a mild feta or parmesan. It can typically be found in the specialty cheese section of the store.
Cilantro – Optional but oh so good. Be sure to give your cilantro a good rinse before you chop it as it often has a bit of grit left on the leaves and stems. To me, it tastes citrusy and bright although some people taste something akin to soap.
Lime – Food is all about balance. The corn is sweet, the cheese is salty, and the mayo is rich and unctuous with deep heat. Lime brings that zip and zing that pulls everything together.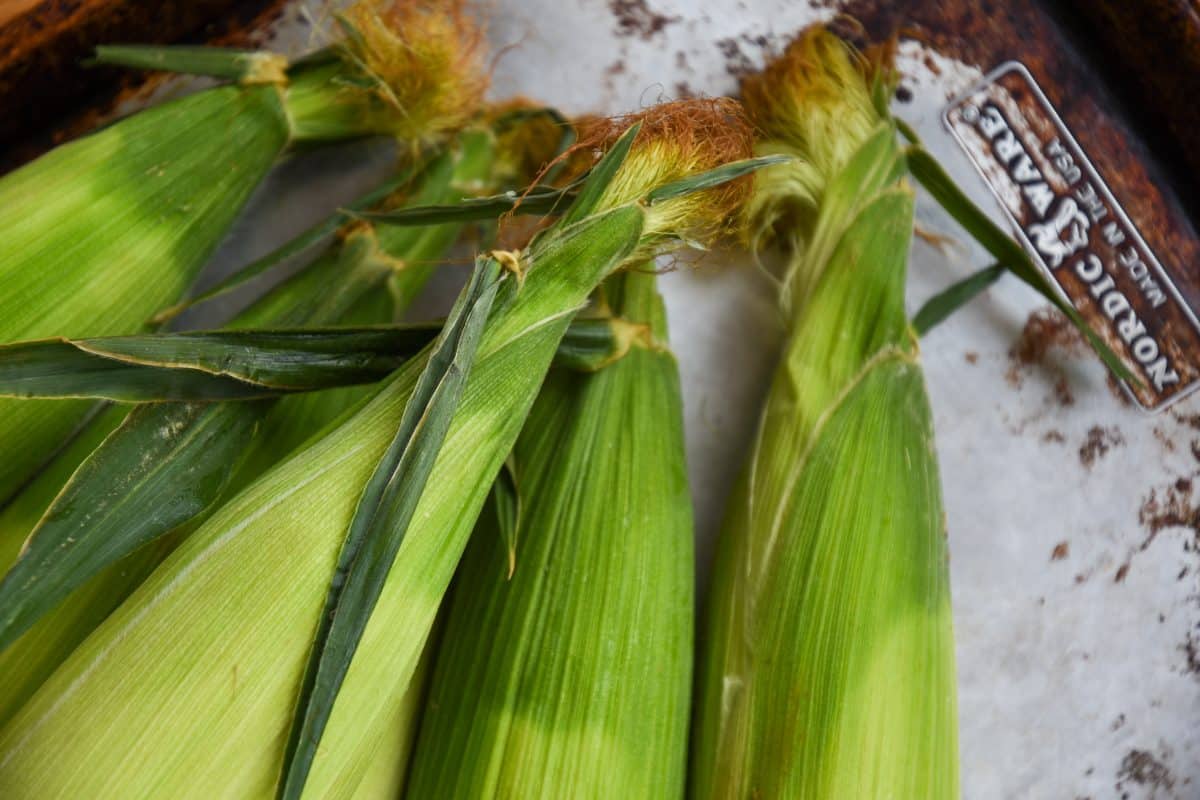 How to Make Chipotle Grilled Corn
After you make this recipe once, you will be making it again and again!
Prep your grill and your corn. Whether you are cooking over wood, charcoal, or on a gas grill, be sure to give yourself ample time to preheat everything. Once that is going, get the corn ready. I like to leave the husk on and simply peel it back. Soaking it in water ensures the husk doesn't accidentally burn up while you are charring the corn.
Create your handle. Cornhusks are great because they double as a handle for the grill and for your guests. You can easily use tongs, but this feels more fun and easier than anything else.
Get to charring! Be sure to scrape your grill grate before you get the corn on there. After that, pop the corn on and keep the husk away from the hot part of things if you plan to have your guests use it to hold the ears. Turn the cobs a 1/4 every few minutes checking the color. I tend to go pretty dark, but do what suits you.
Slather on the mayo. Squeeze bottles are great for this part if you can find them. I find that using a butter knife, a spatula, or even better, a pastry brush, is best for evenly spreading the mayonnaise over the kernels so you have a good coating.
Get cheesy. Use a spoon or fingers to sprinkle cheese on all sides of the corn. It's all about even distribution.
Add the cilantro – if using. Same as the cheese here. You want cilantro on all sides of each ear of corn. Serve it with a fresh lime wedge so your guest can squeeze as much or as little over the ear as they like.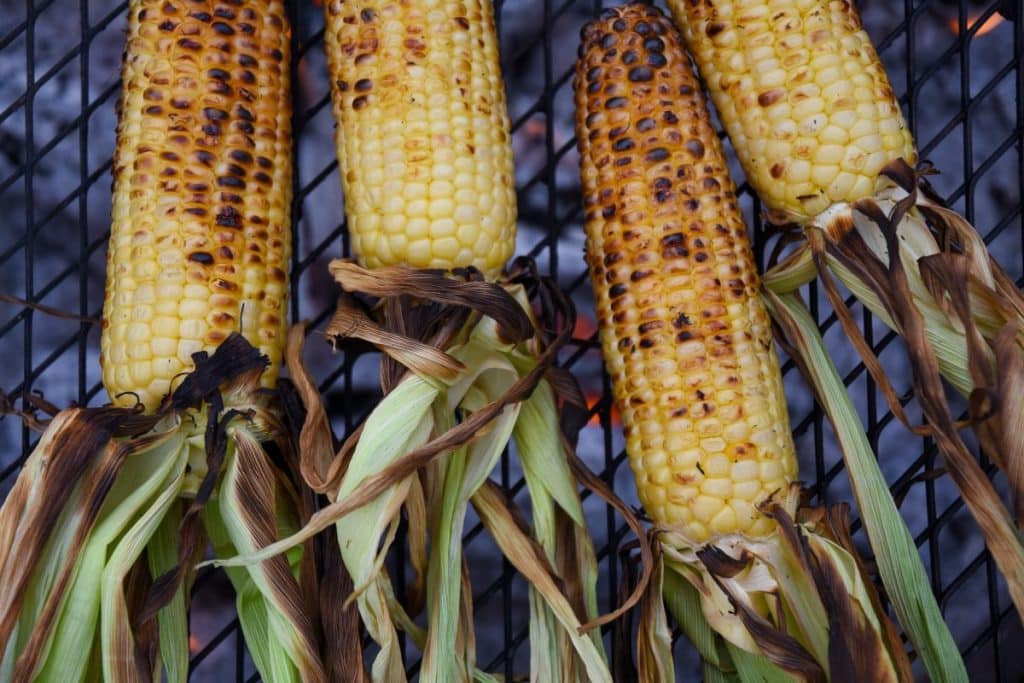 What to It Serve With
The great news is this recipe is great paired with a whole host of different dishes. Try it with:
Sweet Soy Steak
Honey Lime Coleslaw
or even, just your favorite hamburger!
Variations
There are lots of ways you can change this recipe up depending on what you have in the house or what your family's preferences are.
Swap the cheese – If you can't find cotija, try it with queso fresco or a mild crumbled feta.
Try a different mayo – Plain mayo is great, garlic mayo or aioli is delicious, and even a "special sauce" would work here. Try a few different options out!
Give it something extra – Mexican street corn is often sprinkled with seasoning or a seasoning blend of some sort. Try ancho chile powder, guajillo chile powder, chili seasoning, tajin, or your spicy favorite.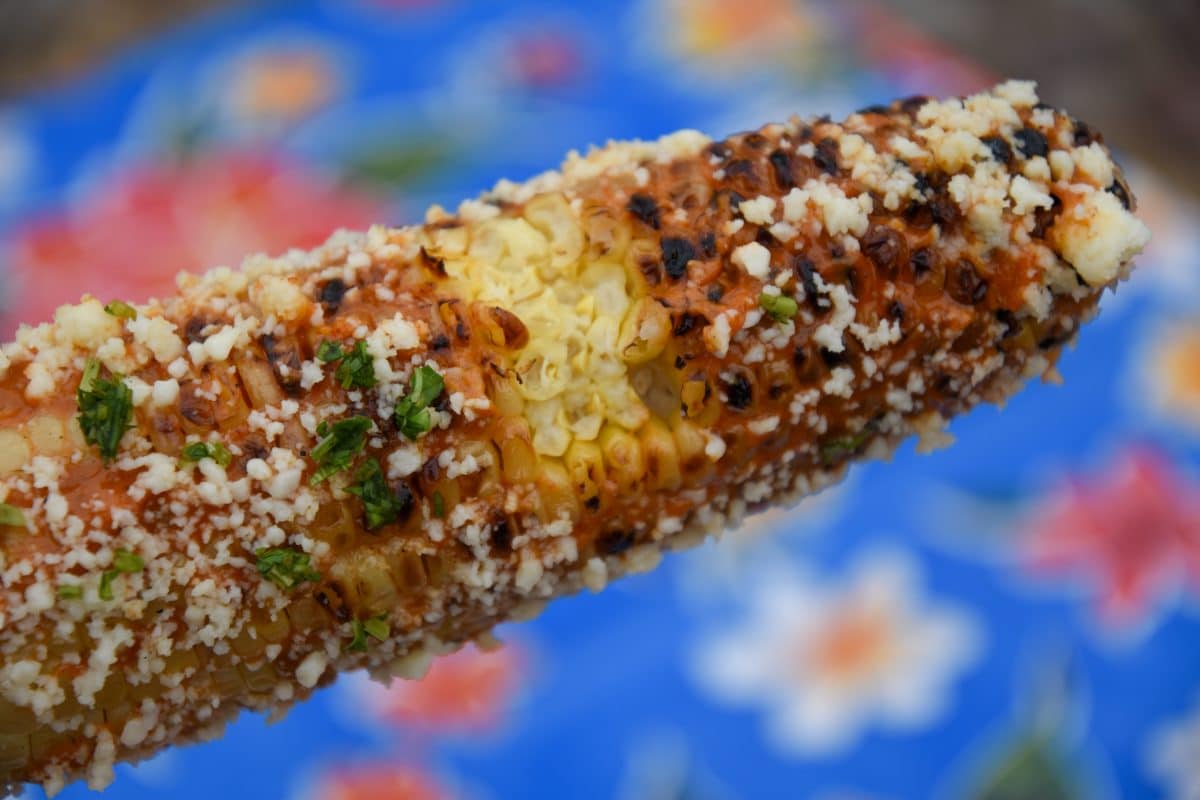 Storing and Freezing
Storing – You can do this one of two ways. One – wrap up the whole ears of corn with plastic wrap individually or in a dish and store them in the fridge for up to five days. Two – you can cut the kernels off of any leftover ears of corn and store those in an airtight container to be easily eaten with a fork later. These too will last in the fridge for up to five days.
Freezing – I do not recommend freezing this recipe.
Questions about Chipotle Grilled Corn
What is the difference between Mexican street corn and elote?
They are one and the same! Elote is the common Spanish name for what is known in the States as Mexican street corn. It is popular in Mexico City which is a region known for its incredible street foods.
Is queso fresco the same as cotija?
Nope! Queso fresco has a softer texture and milder flavor. Cotija on the other hand is aged and as a result, harder with a more sharp, salty, and tangy flavor.
What is the best substitute for cotija cheese?
Cotija is pretty widely available, but should you not be able to find it, try crumbled feta cheese, queso fresco, pecorino, grana padano, or even parmesan cheese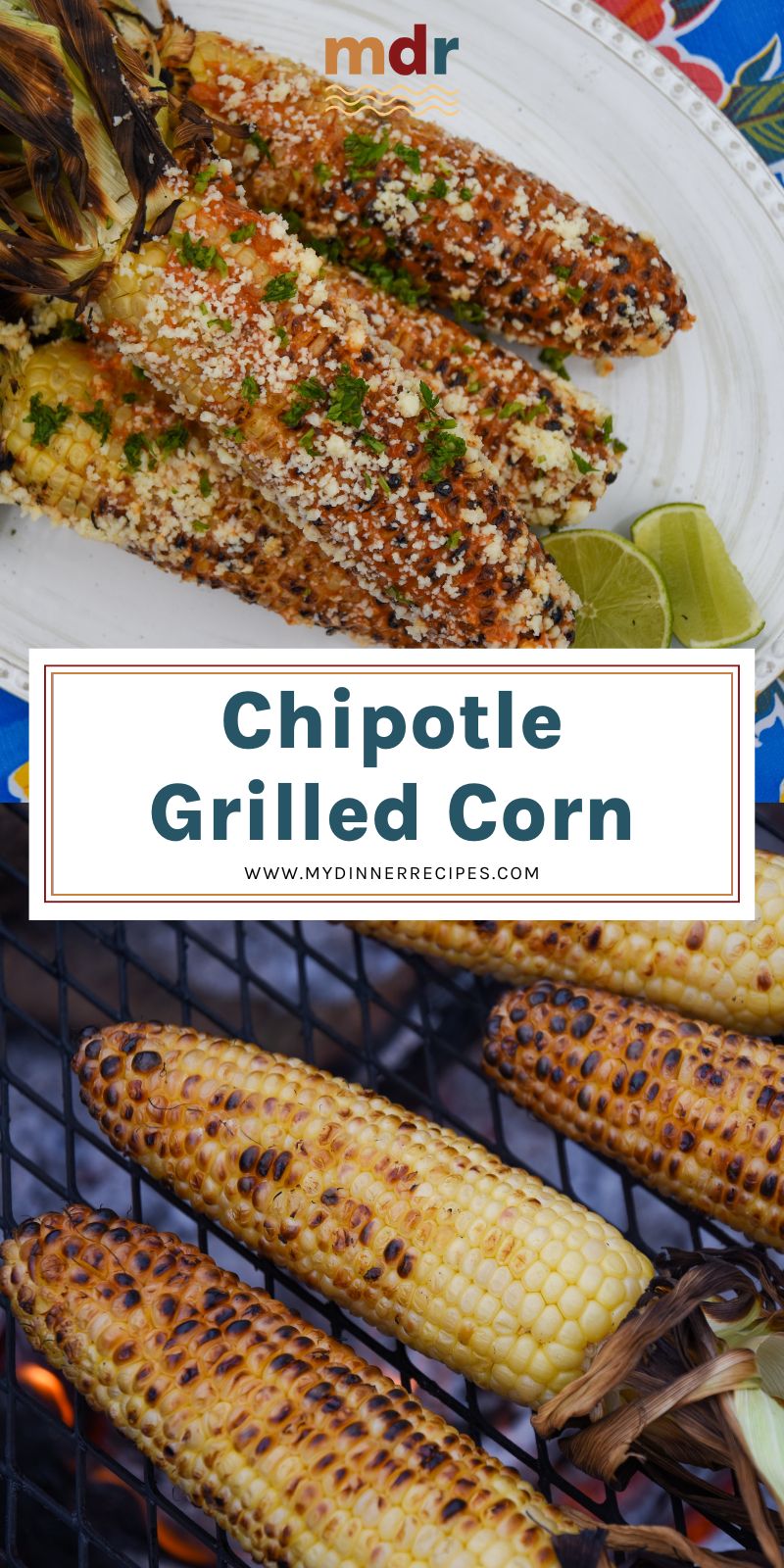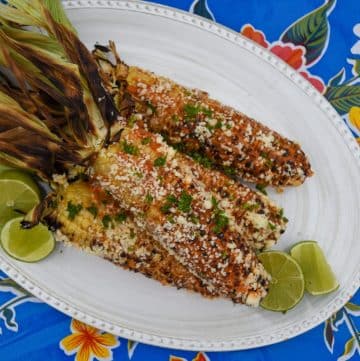 Chipotle Grilled Corn
Chipotle Grilled Corn is a tasty take on Mexican elote and features corn layered with chipotle mayo, tangy cheese, cilantro, and lime juice.
Ingredients
4

ears

corn on the cob, with husk

1/3

cup

chipotle mayo

more as needed

1/2

cup

cotija cheese

crumbled

1/4

cup

cilantro

chopped, optional

1

lime

cut into wedges
Instructions
Preheat your grill to medium high heat. While that is warming, prep your corn by flipping the husk back, but keep it attached. Remove the silks and discard. Flip the husks back down over the cob and allow the corn to soak in water while the grill continues to get warm.

Take the cobs out of the water and flip the husks back. Think of them like a handle while you work on the grill.

Put the corn on the grill. I like to let the husk dangle where the heat is not and use it as a handle to turn the corn as needed. Rotate the cobs a quarter turn every few minutes until they are evenly charred on all sides and the kernels are vibrant in color. This can take anywhere from 10-20 minutes.

Grab a baking sheet to put under the corn while you coat it. Using a butter knife or spatula work to slather the corn with the chipotle mayo. Use as much or as little as you want, but enough so the cheese has something to stick to.

Sprinkle each ear of corn with 1/8 cup of cheese (about 1/8 a cup).

Sprinkle each ear of corn with fresh cilantro and serve with a fresh lime wedge.

If you've tried this recipe, please give it a rating or leave a comment.
Nutrition
Serving:
1
ear of corn
Calories:
259
kcal
Carbohydrates:
19
g
Protein:
6
g
Fat:
19
g
Saturated Fat:
5
g
Polyunsaturated Fat:
9
g
Monounsaturated Fat:
4
g
Trans Fat:
0.04
g
Cholesterol:
25
mg
Sodium:
347
mg
Potassium:
281
mg
Fiber:
2
g
Sugar:
6
g
Vitamin A:
335
IU
Vitamin C:
11
mg
Calcium:
102
mg
Iron:
1
mg