There are only a few weeknight meals that I make more often than Miso Chicken. Quick, easy, and flavor-packed, it is the perfect way to get dinner on the table in a hurry.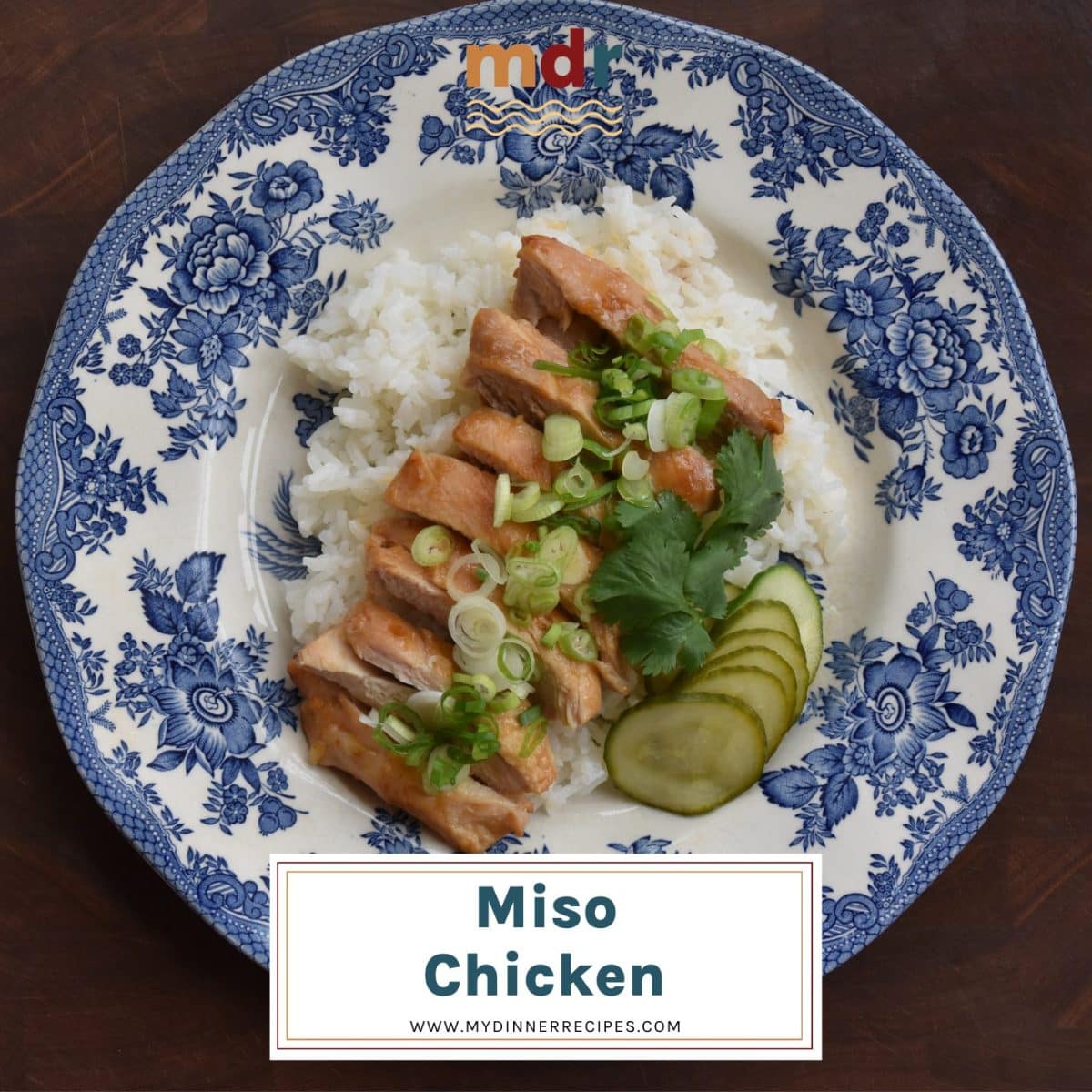 I can't remember when chicken thighs became my go-to, but in a blink, it was all I wanted to make. I continued to mow them down regularly and needed to search for ways to make them a little more exciting.
Miso Chicken was born one night while I was staring into the refrigerator hoping some creativity would strike. It is a mix of a condiment pull and flavors I was craving. After some tweaking, it became what it is today.
Why You'll Love This Chicken Thigh Recipe
Chicken can have a tendency to be boring, but Miso Chicken is anything but!
Ease – This recipe could not be simpler to put together whether you are making dinner for 1 or for a crowd.
Flavorful – Chicken thighs are big on flavor as is, but marinate them in miso, sriracha, garlic, and ginger marinade and you have a winning combo.
Customizable – Serving this dish with condiments, scallions, cilantro, and pickles on the side allows your family or friends to really dial in flavor with every bite.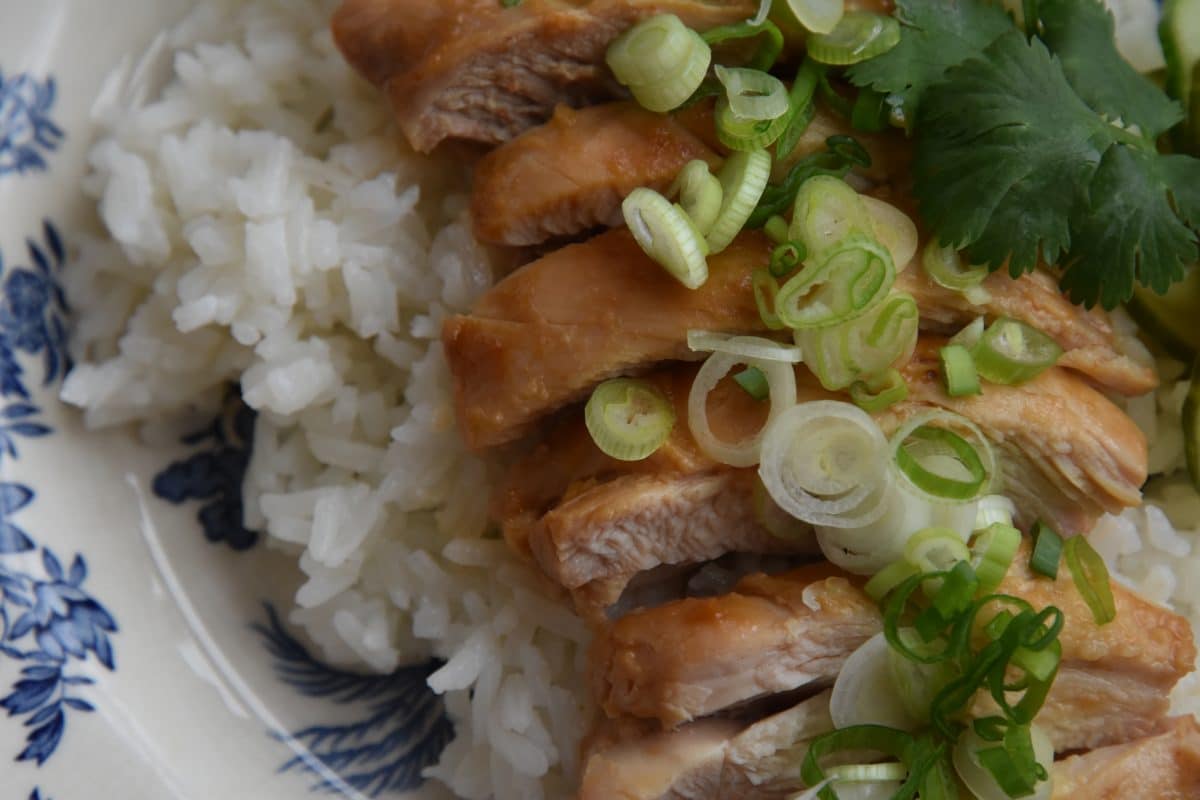 What Is Miso Chicken?
Chicken thighs marinated in a flavorful mix of soy sauce, vinegar, miso paste, garlic, and ginger. You quickly saute them until cooked and then make a sauce from the marinade in the pan.
Serve this dish with thinly sliced scallions, cilantro, and quick pickles. Putting a vegetable on the side is a great way to beef things up a bit.
Ingredients
These items are easy to find and can be used in a whole host of dishes.
Miso Chicken:
Boneless, Skinless Chicken Thighs – Dark meat chicken is more flavorful in general because of its higher fat content.
Sriracha – With a ketchup-like consistency, this hot sauce is spicy, but not too spicy.
Oil – Any neutral oil will do – canola, vegetable, and grapeseed are all great!
Soy Sauce – This helps season the chicken and also tenderizes it as it marinates.
Rice Vinegar – Made from fermented rice, this vinegar can be used just like any other vinegar. Try to find unseasoned rice vinegar as it isn't sweetened or salted.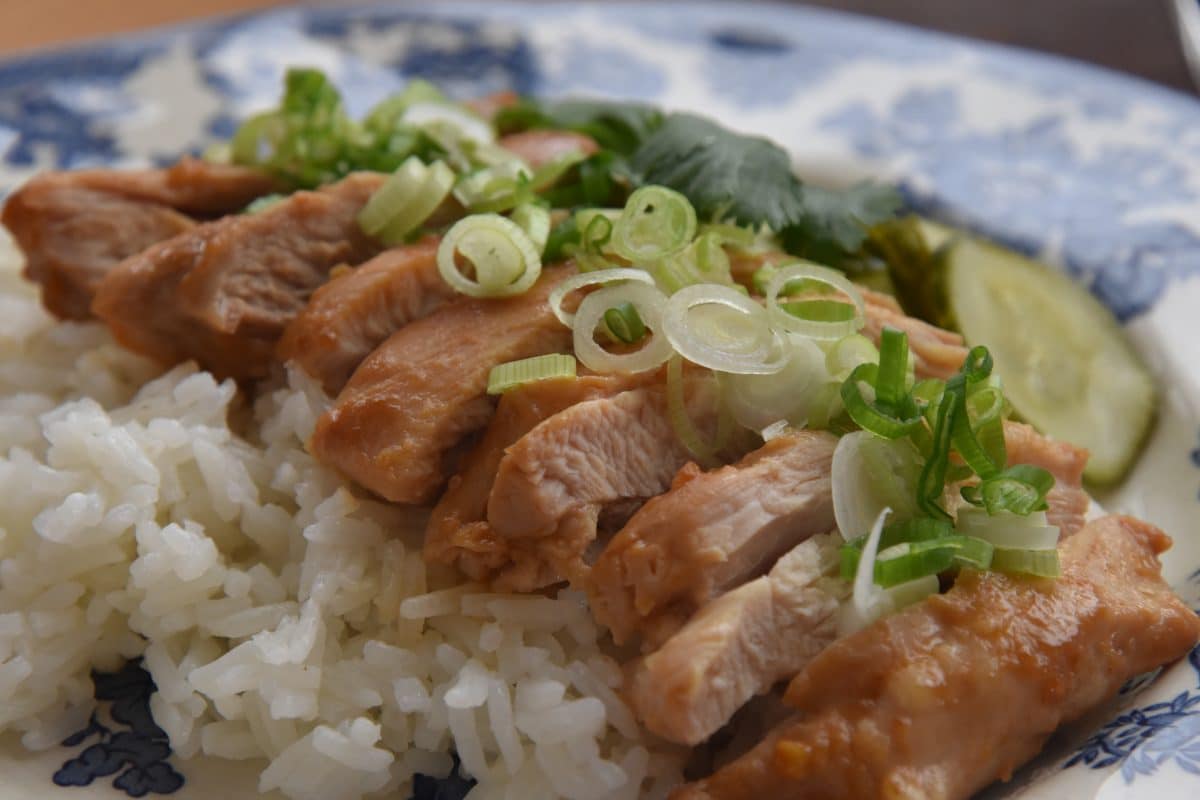 Miso Paste – Fermented soybean paste comes in a ton of varieties, but you will most likely see white, yellow, or red at the store. White miso has a mild sweet flavor while red miso will give you a darker, deeper soybean flavor. Either is great in this recipe.
Garlic – You can never have too much in my opinion and I will often put as many as six cloves when I am making it for myself.
Fresh Ginger – Should fresh ginger sound too fussy, grab a tube of premade ginger paste. It won't be as sharp or spicy in flavor, but it will get the job done.
Chicken Stock – Both boxed or bouillon mixed with water is perfectly fine.
Cornstarch – Used to create a thick sauce in no time at all.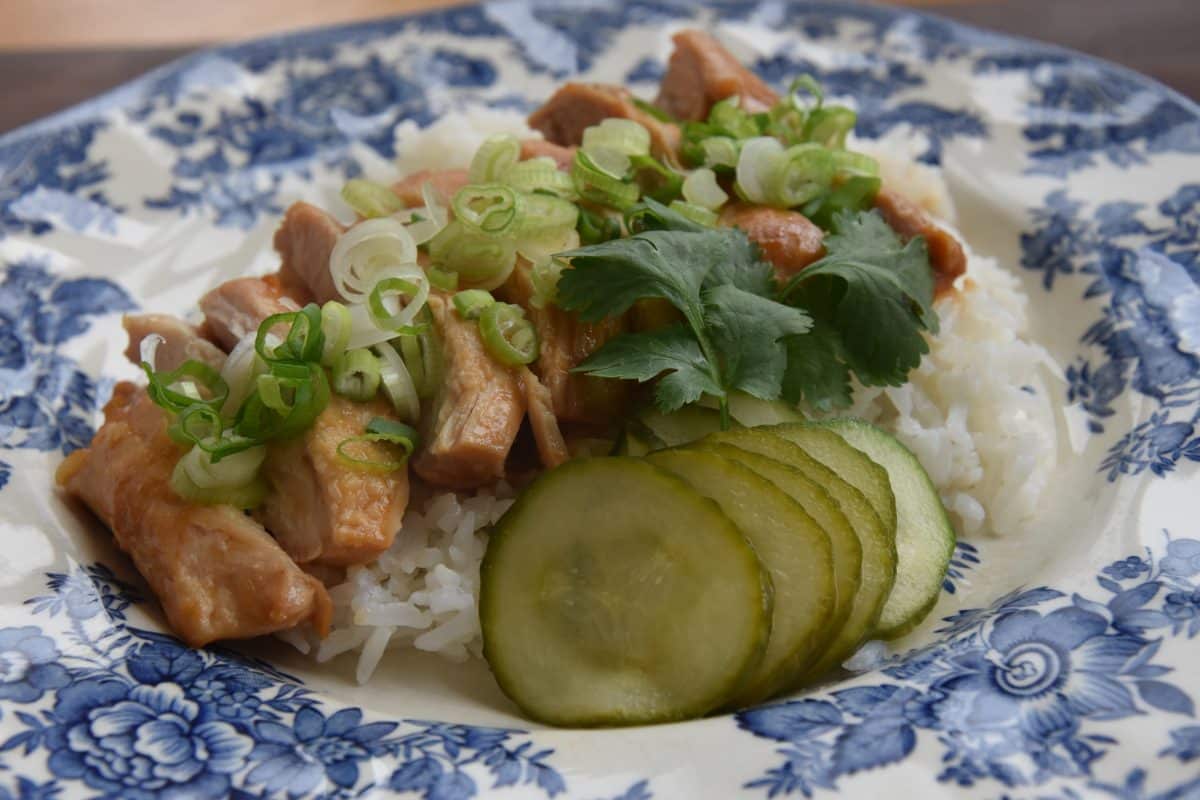 Serving:
Rice – Use whatever rice is in the pantry. Japanese-style sticky rice or jasmine rice is particularly great with this dish.
Cilantro – What a divisive herb! Cilantro is one of those flavors I love, but feel free to omit it if it isn't your favorite.
Scallions – Slice these as thin as possible to keep the onion flavor subtle instead of overwhelming with each bite.
Toasted Sesame Seeds – Optional, but oh so tasty!
Toasted Sesame Oil – A little drizzle over the finished plate is a great way to set those flavors off.
Quick Pickled Cucumber Slices:
Seedless Cucumber – Sliced as thin as possible. A mandoline is the tool for the job if you have one.
Granulated Sugar – Gives the pickles a touch of sweetness and balances out the tang of the vinegar.
Rice Vinegar – Neutrally flavored and perfect for pickles.
Coarse Kosher Salt – Everything needs a bit of salt, especially pickles.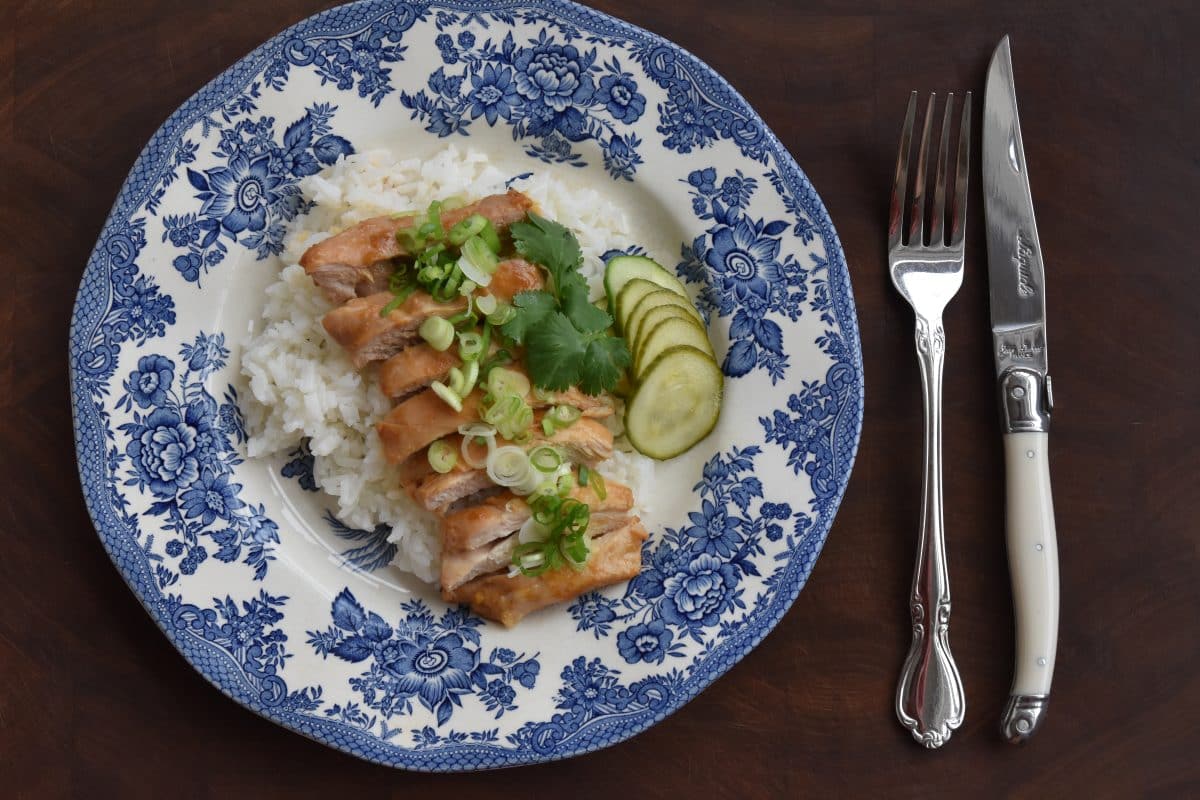 How to Make Miso Chicken
Miso Chicken:
Make your marinade. I use a fork or a whisk to help create a smooth even mix. Throwing in the garlic and ginger last helps to create that mix more easily.
Add chicken. The chicken needs about 30 minutes minimum, but you can marinate it for up to 24 hours if you have the time.
Cook the chicken. Add the chicken and the marinating liquid to the pan. Covering this with a lid helps keep the marinade from evaporating too much so you can create your sauce.
Flip and continue to cook.
Make the slurry to make the sauce. Heat three-quarters of the chicken sauce and while that is warming, create the slurry. Creating a smaller separate liquid mix prevents the cornstarch from clumping. As the cornstarch heats, it will begin to thicken and create a velvety sauce.
Serving:
Create your plate. I like to serve this with toppings on the side buffet style or passed in small bowls so everyone can make their plate how they like it.
Quick Pickled Cucumber Slices:
Make the pickle brine. With the cucumbers in the bowl, create the brine on the stove. All this involves is dissolving some ingredients. I will typically do this step while the chicken is marinating.
Make pickles! Pour the liquid over the cucumbers and allow them to sit until the liquid has cooled. And there you have it, quick pickles!
What to Serve with Miso Chicken
Seeing as this is a go-to weeknight meal for me, I will simply add a vegetable side. This is a matter of perusing the fridge and seeing what is there. Broccoli, spinach, snap peas, and even sauteed zucchini are all great choices.
Storing and Freezing
Storing: Store the chicken in an air-tight container for up to a week in the fridge. Do the same for any leftover rice. Keeping the toppings separate will allow you to use them on other dishes should you have anything they go well with.
Freezing: This Miso Chicken recipe is great for the freezer! Put the chicken in an airtight container and store it in the freezer for up to two months. I do not recommend storing the rice in the freezer as it will get gummy. The toppings should be fresh when you reheat.
Questions About Miso Chicken
What is miso made of?
Miso is a deliciously tasty concoction made from fermented soybeans. Steamed soybeans are mixed with salt, barley, rice, or another grain, and an ingredient called koji. This is technically a mold and it helps with the fermentation process.
What can you do with miso?
Miso is super versatile. The obvious first choice is soup, but you can also add it to dressings, marinades (like this recipe), glazes, butter, pickles, noodles dishes and so much more. It is common in Japanese cuisine but it is used in other Asian cuisines as well.
Is miso hot or spicy?
On the contrary! The flavor of miso is sweet and some would say, funky. This combination of things as well as the saltiness of it gives the dishes it is added to umami.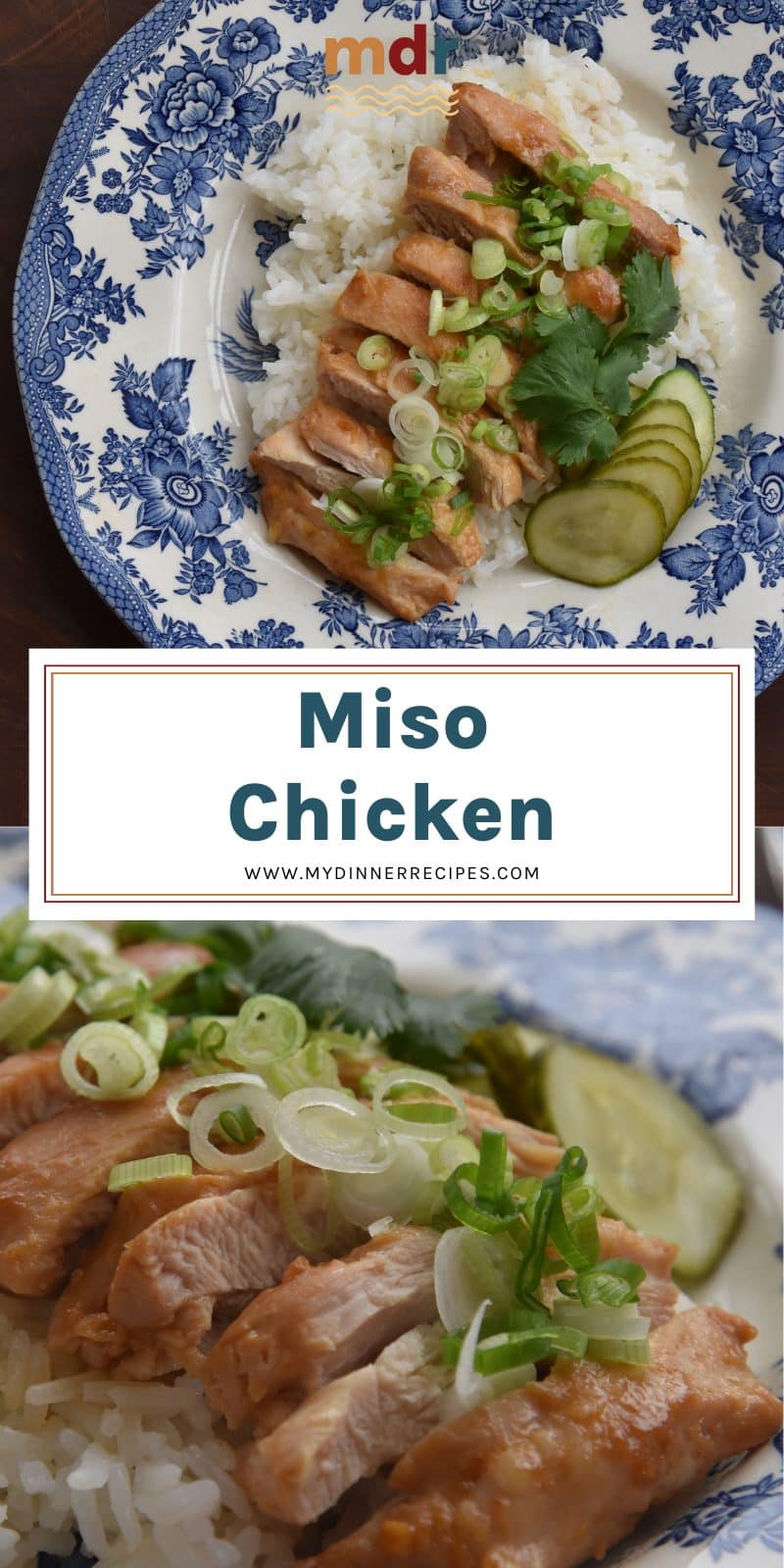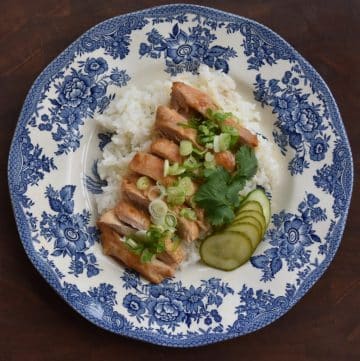 Miso Chicken
Miso Chicken is a great go-to weeknight recipe and features juicy chicken thighs quickly marinated and sauteed atop a bed of fluffy rice with scallions and tasty quick pickles.
Ingredients
For the Miso Chicken
1

lb

boneless, skinless chicken thighs

1

tablespoon

sriracha

2

tablespoon

neutral oil

divided

2

tablespoon

soy sauce

1

tablespoon

rice vinegar

1

tablespoon

miso paste

2

cloves

garlic

peeled and minced

1

tablespoon

fresh ginger

peeled and minced

1

cup

chicken stock

1

tablespoon

cornstarch
For Serving:
2

cups

sticky rice

cooked according to package directions

1/2

cup

quick pickled cucumber slices

(optional – see recipe below)

1/4

cup

fresh cilantro

chopped

1/2

bunch

scallions

thinly sliced

toasted sesame seeds

to garnish

toasted sesame oil

to garnish
For Quick Pickled Cucumber Slices (Optional):
1

seedless cucumber

cut into super thin slices

1

tablespoon

granulated sugar

1 /2

cup

unseasoned rice vinegar

1/2

cup

water

1/2

teaspoon

coarse kosher salt
Instructions
For the Miso Chicken:
Combine sriracha, 1 tablespoon of the oil, the vinegar, soy sauce, and the miso paste in a stainless steel mixing bowl. Use a fork or a small whisk to really mash the miso paste into the mix. This will thicken it a good amount. Once it is completely combined and homogenous, fold in the garlic cloves and fresh ginger.

Add the raw chicken to the mixing bowl. Move it around so each piece is completely coated. Cover the bowl and allow to marinate in the fridge for 30-45 minutes.

In saute pan, heat the remaining oil over medium-high heat. Once shimmering, add in the chicken and marinating liquid in a single layer into the pan and cover with the lid.

Cook for 5-6 minutes. The steam will help the chicken from drying out and the sauce from thinning out too quickly. After five minutes, remove the lid and flip the chicken. Sauté uncovered until completely cooked – roughly another 5-6 minutes or until the chicken is cooked through and has an internal temperature of 165F.

Remove the chicken and set aside to rest. Add 3/4 of the chicken stock to the pan. In a small bowl, mix the cornstarch with the remaining 1/4 chicken stock and whisk until combined. Add to the pan and stir for a few minutes until the sauce has thickened. Return the chicken to the sauce and warm.
For Serving:
Spoon rice onto each plate. Top with chicken and a few spoonfuls of the sauce, cilantro, pickled cucumber slices (if using), scallions, sesame seeds, and a drizzle of sesame oil. Think of this as your time to style your heart out before putting your masterpiece on the Gram.

If you've tried this recipe, come back and let us know how it was in the comments or ratings.
For the Quick Pickled Cucumber Slices (Optional):
Place the cucumber slices in a heat-safe (non-reactive) bowl. Combine the sugar, vinegar, water, and salt in a small saucepan over medium-high heat. Stir until the salt and sugar have just dissolved and before it boils.

Carefully pour the liquid over the cucumber slices. Allow the liquid to come to room temp (about 20 minutes) and stir the cucumbers from time to time. Transfer the pickles and their brine into an airtight container and store them for up to three days.
Nutrition
Serving:
1.5
chicken thighs
Calories:
531
kcal
Carbohydrates:
84
g
Protein:
31
g
Fat:
6
g
Saturated Fat:
2
g
Polyunsaturated Fat:
1
g
Monounsaturated Fat:
2
g
Trans Fat:
0.02
g
Cholesterol:
110
mg
Sodium:
942
mg
Potassium:
489
mg
Fiber:
4
g
Sugar:
2
g
Vitamin A:
144
IU
Vitamin C:
9
mg
Calcium:
38
mg
Iron:
3
mg