It doesn't get more classic than a good red sauce and this Easy Homemade Marinara Sauce is made from scratch and absolutely irresistible!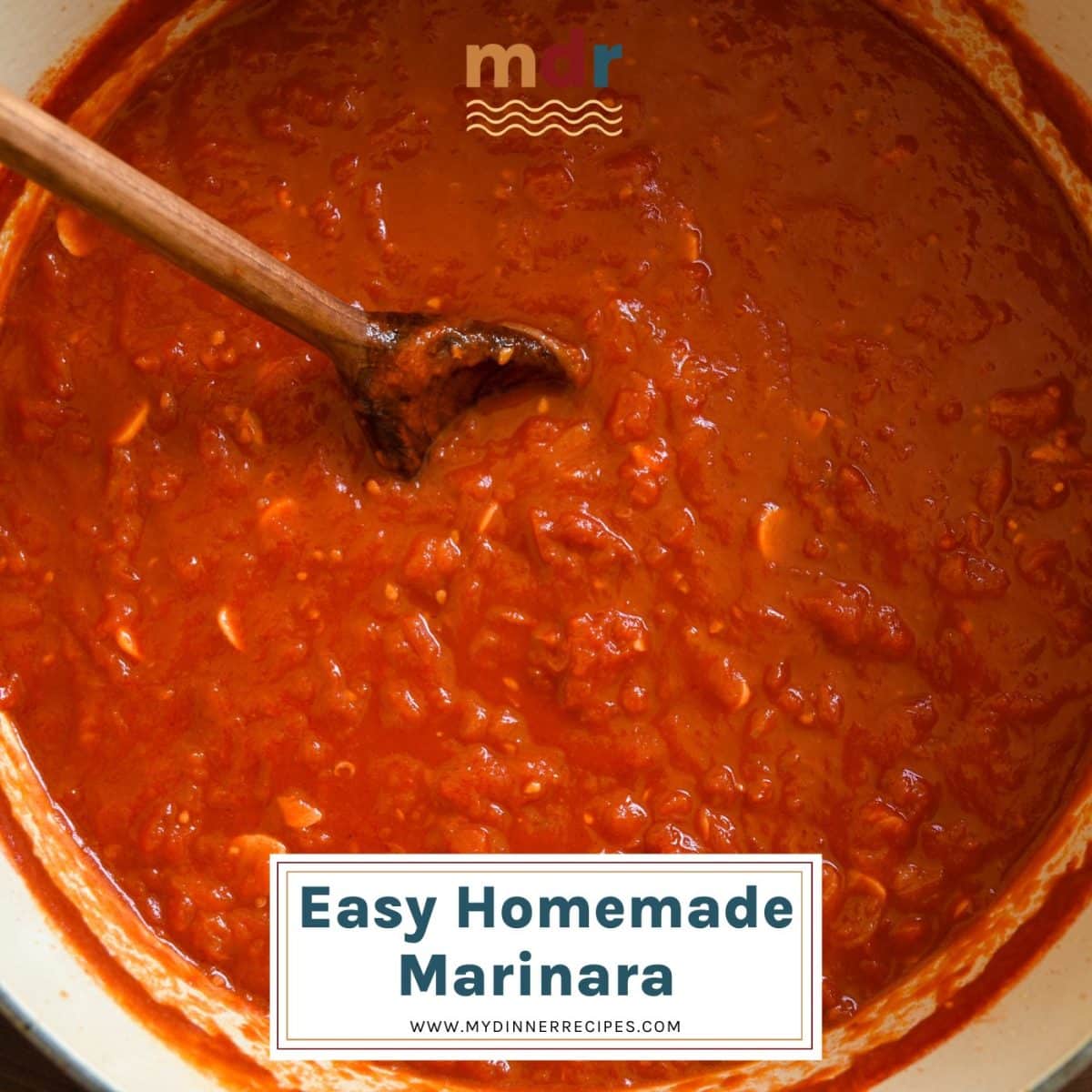 One of the best parts of cooking is filling your house will the aromas of what's on the stove. And this typically happens in my household on a Sunday, which is why I view marinara and pasta as a Sunday Supper.
Can you grab a jar on the shelf at the grocery store? Yes, of course, you can, but if you have the time, why would you not impress your friends and family with the easiest sauce recipe around?
Why You'll Love This Marinara Sauce Recipe
Marinara is a classic for a reason – it is flipping delicious!
Easy – It is in the name after all. But in all seriousness, with just five ingredients and a a little knife work, you can have an amazing homemade sauce for your family.
Freezer Friendly – This recipe is a dream because it freezes so well. Make a big batch, throw it in the freezer, and grab some whenever the occasion calls for it.
Bragging Rights – What's better than telling people you made something from scratch?
What Is Marinara?
I like to describe marinara sauce as the darling of the Italian-American kitchen. It is amazingly versatile while being wildly easy to make.
And while everyone has an opinion on how to make it best, it really boils down to a few simple ingredients: whole peeled tomatoes, olive oil, onions, garlic, and salt.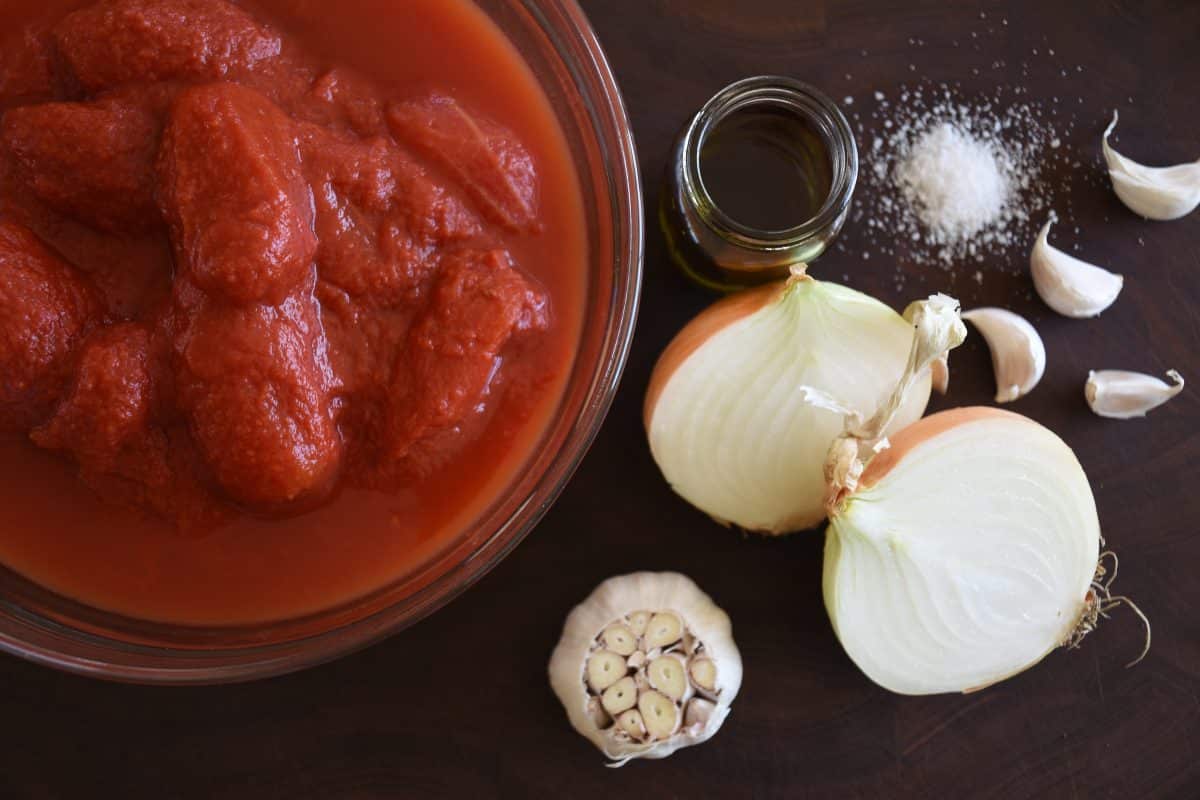 Ingredients
It doesn't get any easier than five simple ingredients!
Extra Virgin Olive Oil – With so few ingredients, you want to make sure each one is bringing the right flavor to the table. EVOO is made from the first pressing of the olives and that means it has a little extra peppery flavor. That peppery flavor goes wonderfully with the acidity of the tomatoes.
Yellow Onion – Also known as brown onions, these have a very high sulfur content. Their strong and pungent flavor is one of the keys to making this sauce so tasty.
Garlic – How are you going to make Italian food without garlic? I go ahead and use the entire head of garlic, but feel free to dial it down as needed if that isn't for you.
Canned Peeled Tomatoes – You can make marinara with fresh tomatoes, but that is where I draw the line. Whole tomatoes in the can are delicious and have the work done for you.
Kosher Salt – Seasoning marinara sauce properly is a must and I find that coarse kosher salt has the most even seasoning capabilities.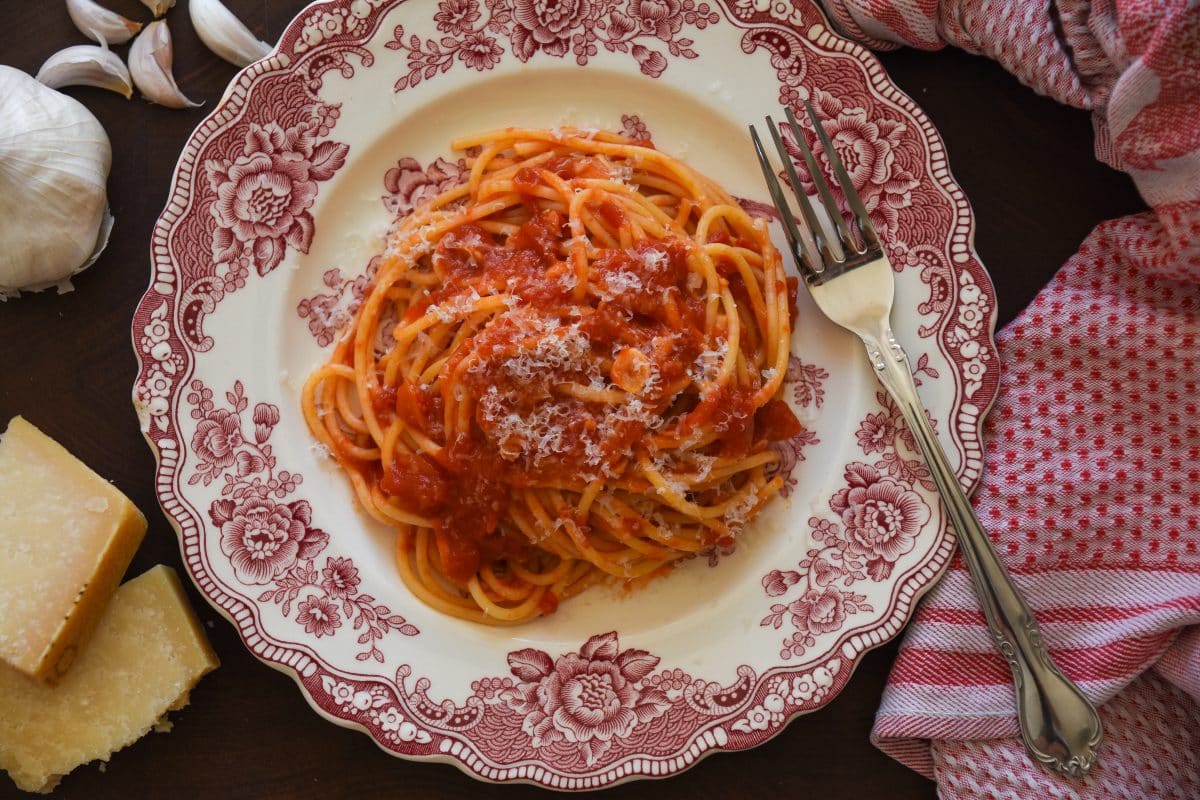 How to Make Easy Homemade Marinara Sauce
You will be wondering why you didn't start making it from scratch sooner.
Preheat the pot. Getting the pot warm before you add the oil prevents it from burning the oil. And because of the longer cooking time, a heavy-bottomed pot is key. This type of pot provides even heat over long periods which means your sauce won't burn.
Saute the onions. This step is crucial because you don't want the onions to get any color. If they start to brown, they run the risk of getting bitter during the cook. Cooking them gently in olive oil softens them while coaxing the flavor out of them.
Saute the garlic. The garlic is added after the onions because it cooks much more quickly than the onions do. Garlic, even more than onions, can get bitter if it gets too dark or burned. Be sure to keep an eye on it and keep stirring so they cook evenly.
Add the tomatoes and their juice. Add these carefully and slowly so they do not splash you or your cooktop. Drop the heat down to a simmer and allow everything to cook low and slow for about an hour. Be careful not to go too long however as it can get gloppy and bitter.
Taste and season. Sauces should always be seasoned at the end of the cooking process because so much of their liquid evaporates. If added too early, the sauce can end up salty or inedible. Trust me, I made the mistake in my early days. Add the salt slowly and give it a stir and a taste after each addition to see where things are.
Serve! This sauce is super versatile and can be used to sauce your favorite pasta, coat your chicken parm, or make a meatball sub.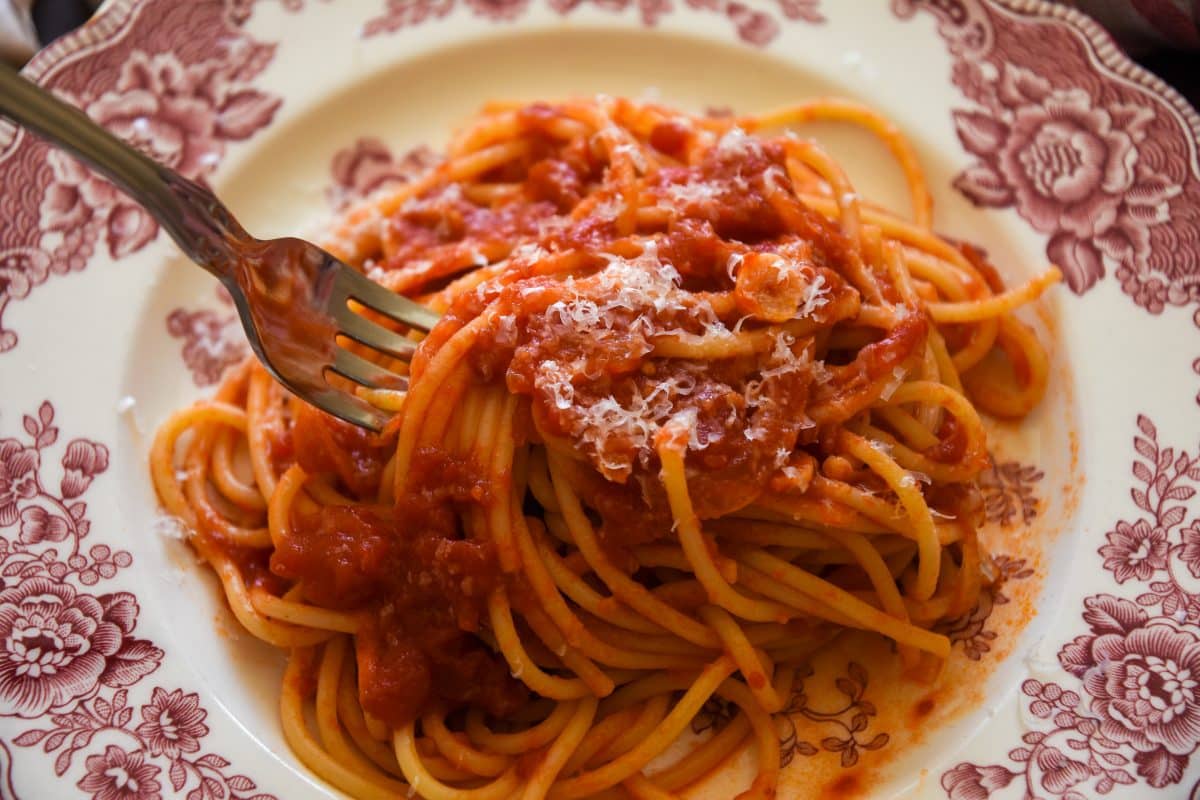 Variations
Personally, I love the sauce as is, but here are a few ways to change it up.
Garlic – I am a garlic fanatic, but that is not true for everyone. Try adding more or less garlic to suit your taste.
Onions – Try using a white or sweet onion to see how the flavor of the sauce changes.
Add Some Heat – Give the sauce a few small shakes of red pepper flakes when you add the tomatoes and it will give the marinara a little kick.
Dried Herbs – I have seen lots of recipes add dried herbs to their sauces to give them a little something extra. If you are looking for that herbaceousness, try a tablespoon of dried oregano or dried parsley.
Batch Size – I like making marinara sauce in large batches so I always have some on hand in the fridge or freezer. If you are short on space or ingredients, halve or quarter this recipe and get the same delicious results.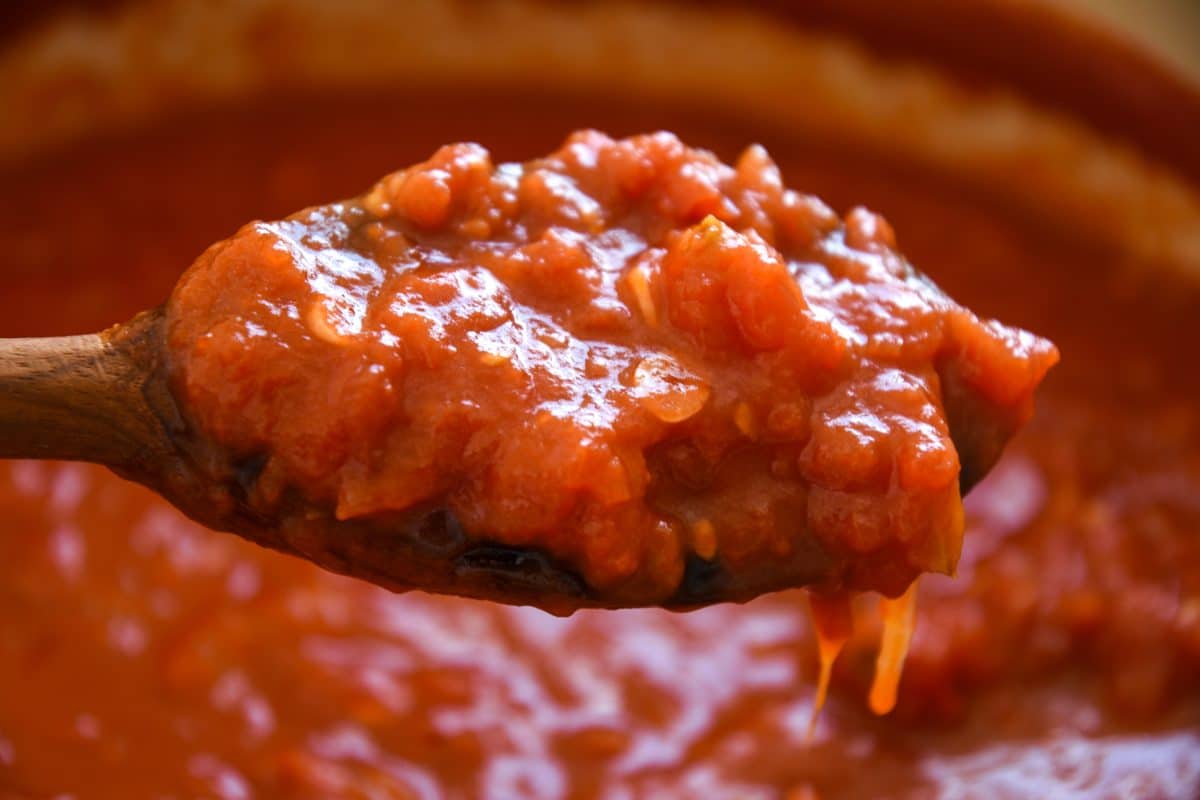 Storing & Freezing
This recipe is incredible because it stores and freezes like an absolute champ.
Storing: I like putting this in 16 oz plastic deli cups with a lid and keeping it in the fridge for use during the week on a variety of dishes. It should last about 5-7 days if you don't eat it first.
Freezing: Transfer your Homemade Marinara to an airtight container and pop it in the freezer for up to 3 months. When you are ready to use it, simply move it to the refrigerator and allow it to thaw.
Easy Homemade Marinara Sauce Serving Suggestions
So you have your marinara now, but what do you serve it with or on? Good news: a whole host of dishes!
Chicken Parm or Eggplant Parm
Paired with your favorite pasta
Stuffed Shells or Baked Ziti
Pizza or Calzones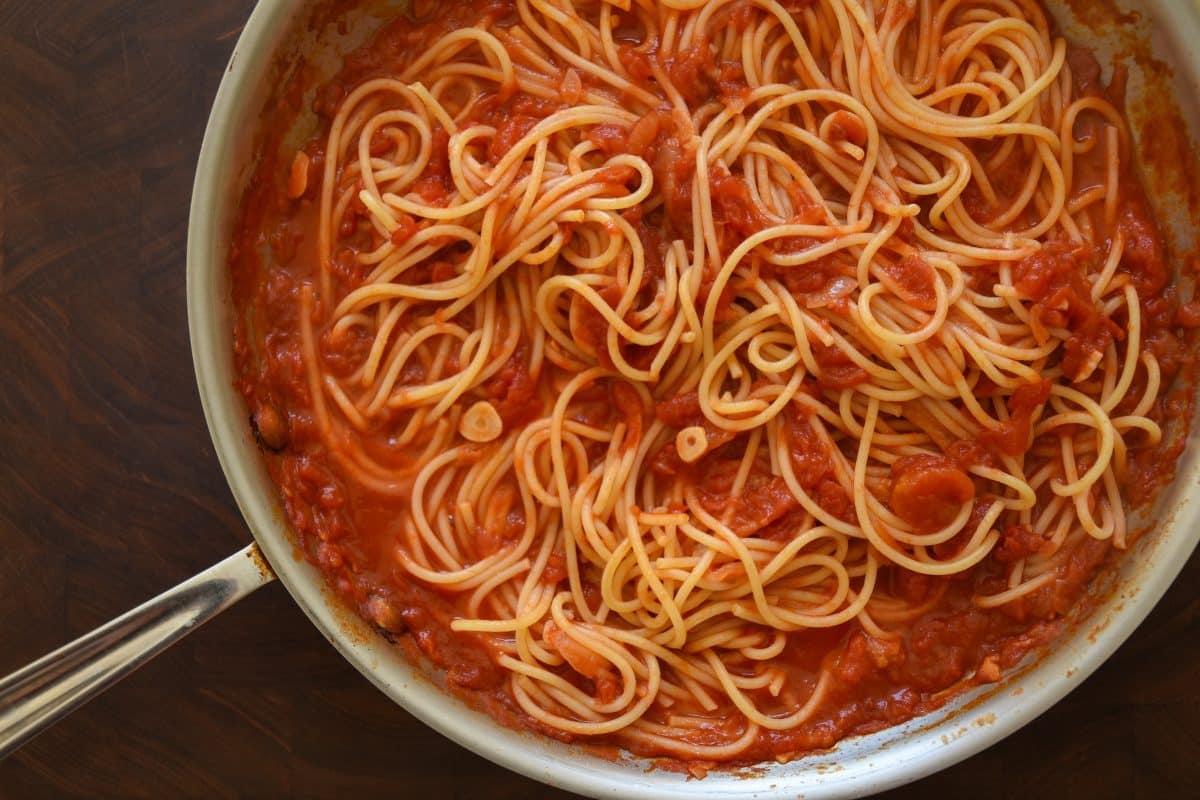 Questions About Homemade Marinara
What's the difference between spaghetti sauce and marinara sauce?
This is highly contested so I will give your personal opinion on the matter. Spaghetti sauce is something you cook all day. Some call it Sunday Sauce or Sunday Gravy and the resulting flavor is rich and decadent. Marinara is more simple, straightforward, and cooks for less time.
What kind of tomatoes to use for homemade marinara sauce?
Because I look for shortcuts, I skip the whole peeling and de-seeding of fresh tomatoes and go straight for the canned kind. I always look for San Marzano tomatoes. They are a little pricier because they are imported from Italy. These have been grown in volcanic soil in the shadow of Mt. Vesuvius. Aside from sounding cool, the volcanic soil gives them a sweeter taste and they are generally less acidic than other canned tomatoes.
Is homemade marinara better?
I am probably biased but that would be an absolutely resounding, yes! With just ten minutes of prep and an hour of time doing whatever else you want (or need to do), you have a rich and flavorful sauce.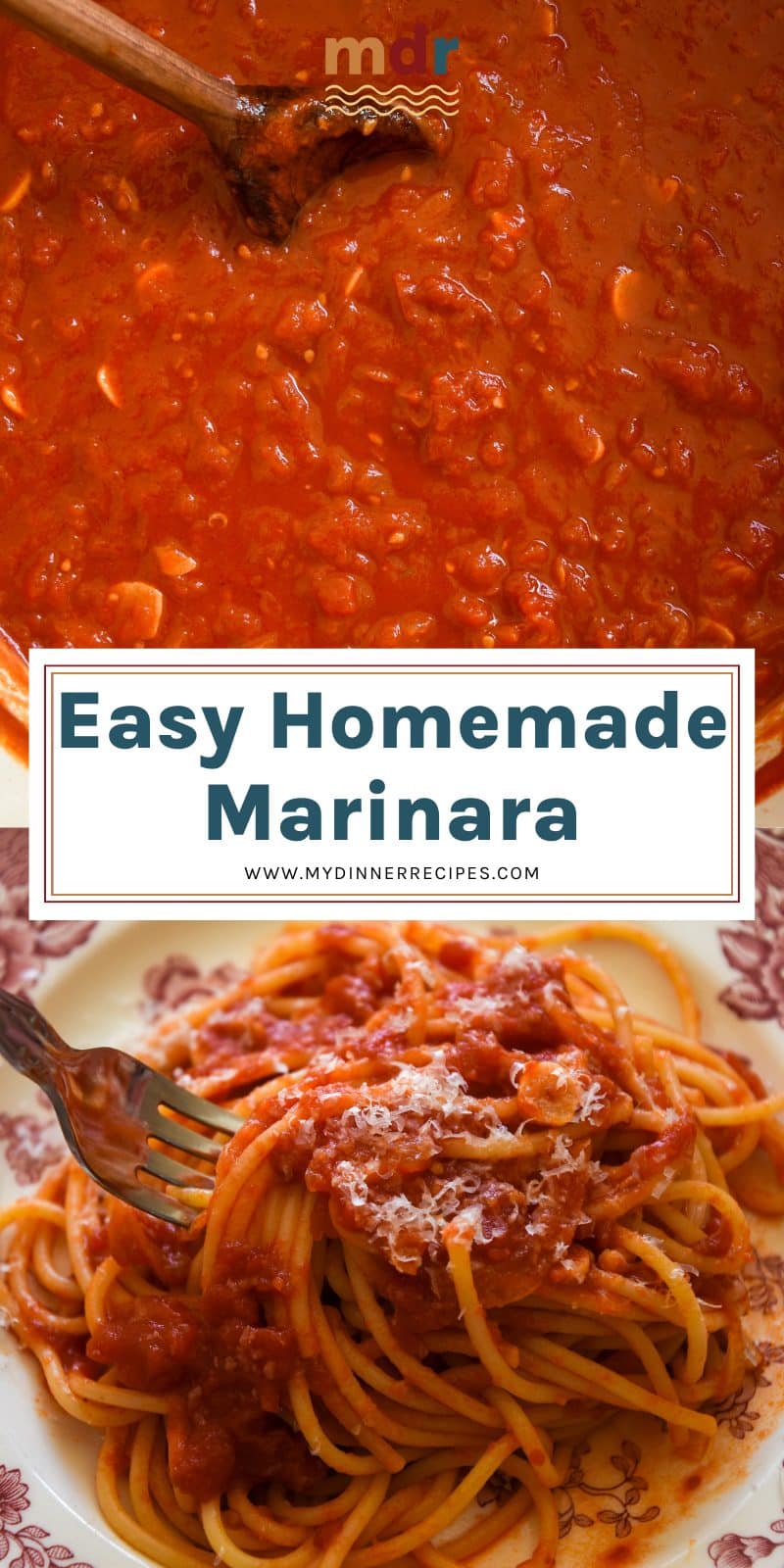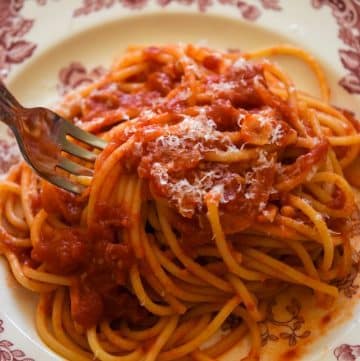 Easy Homemade Marinara Sauce
There is nothing quite like the smell of sauce simmering away on the stove. This Easy Homemade Marinara Sauce is great for a ton of different dishes from pasta to chicken parm.
Ingredients
1/2

cup

extra virgin olive oil

1

yellow onion

halved and sliced thin

1

head

garlic cloves

peeled and sliced thin

4

28oz cans

peeled tomatoes

roughly chopped, juices reserved

kosher salt

to taste
Instructions
Preheat a large pot, heavy-bottomed pot over medium heat.

Add the olive oil and allow to heat for a minute or so. Add the onions and saute for 10 minutes on medium-low heat until they have become translucent. You are not looking to get any color on them.

Add the garlic and continue cooking for 10 additional minutes. You are looking to soften the garlic but again, not get any color on it. 

Add the tomatoes and their juices to the pot and bring to a simmer. Once there, turn the heat down to medium low and allow the marinara to simmer for 60-75 minutes. The longer you allow it to simmer the deeper the flavor. Be sure to give it a stir every now and again and be careful not to let it scorch the bottom of the pot.

When your house smells amazing, give the marinara a taste. The color will have darkened slightly and the flavor deepened. Season to taste with a few big pinches of kosher salt. Add slowly as you can easily add more, but can't easily take it out.

Serve with your favorite pasta, chicken, or eggplant parm!

If you've tried this recipe, come back and let us know how it was in the comments or ratings.
Nutrition
Serving:
1
cup
Calories:
87
kcal
Carbohydrates:
2
g
Protein:
0.3
g
Fat:
9
g
Saturated Fat:
1
g
Polyunsaturated Fat:
1
g
Monounsaturated Fat:
7
g
Sodium:
1
mg
Potassium:
23
mg
Fiber:
0.2
g
Sugar:
0.4
g
Vitamin A:
1
IU
Vitamin C:
1
mg
Calcium:
7
mg
Iron:
0.1
mg