Few things in life are better than a good square of lasagna and this 7 Layer Lasagna takes the proverbial cake. Packed with cheese, veggies, and tangy marinara, it's a great way to feed a crowd!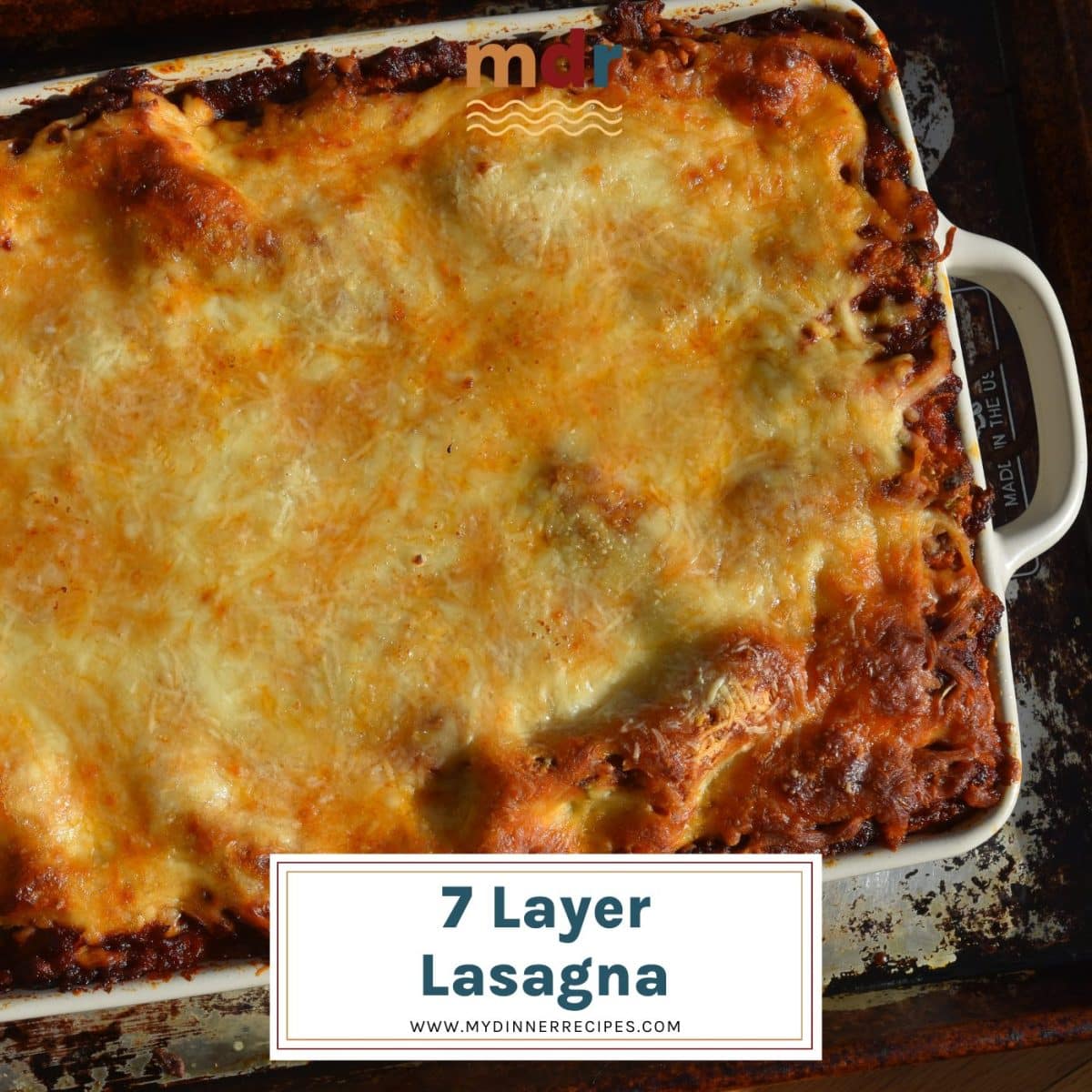 Growing up, lasagna was one of those dinners you got maybe once a year and it was typically something that would only show up on the weekends – Sunday specifically.
During the following week, I would microwave as many slices of lasagna as I could get my teenage hands on. I was an insatiable lasagna fiend.
Because of its infrequency in our home, I assumed it was a very intimidating thing to make. Reality: it's not! You just need to have a little bit of time. For that reason, it's the perfect Sunday supper.
Just be sure to make it more than once a year!
Why You'll Love 7 Layer Lasagna
Lasagna isn't typically a hard sell, but just in case you need a little extra convincing, here are a few reasons that make this dish fantastic.
Great for a crowd – Whether you are feeding family or friends, this is a show stopper that can easily feed a pretty large group of hungry folks.
Freezer friendly – In the odd event you don't finish your lasagna, this recipe freezes extremely well in large or single-serve portions.
Veggie heavy – Some lasagna completely forgets that vegetables exist. This recipe is the opposite of that and boasts not one, not two, but three different kinds of veg.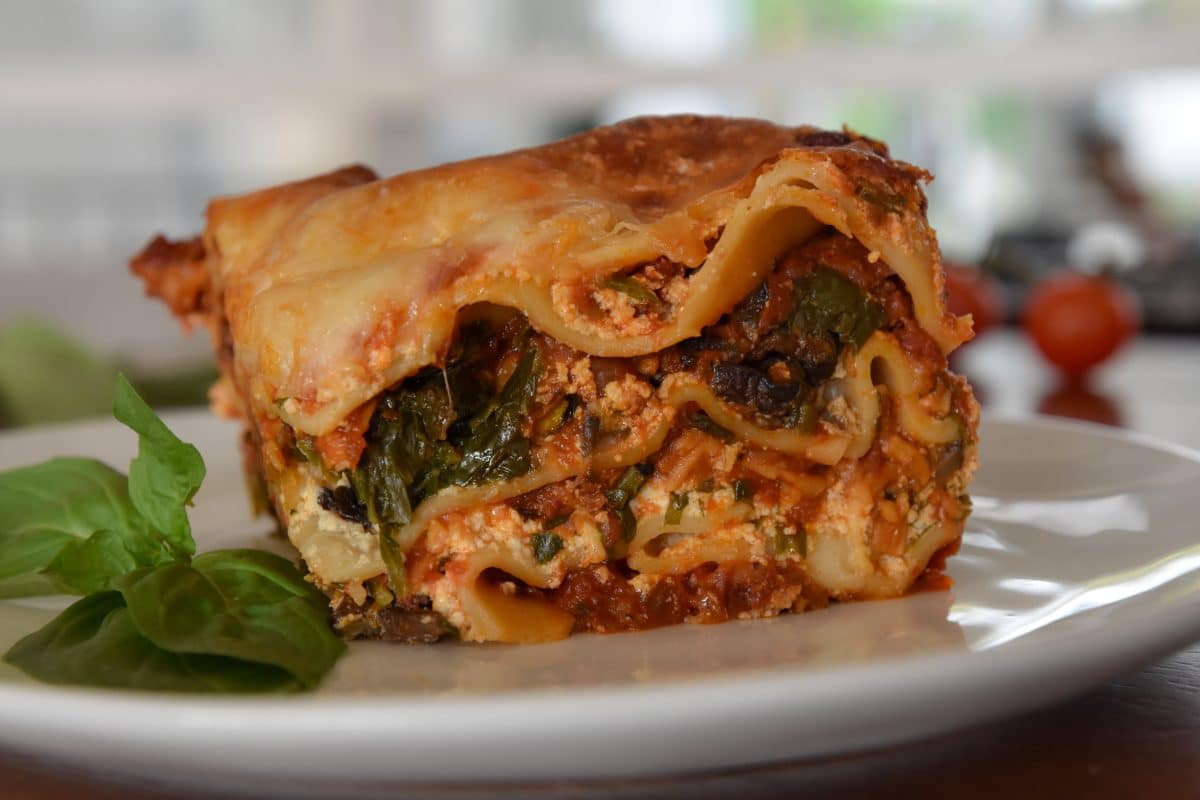 What is 7 Layer Lasagna?
Think of 7 Layer Lasagna as the Italian answer to the classic 7 layer dip only there are a few layers of noodles thrown into the mix. Is it a direct take? No, but does it sound fun, and is it a departure from many typical lasagna recipes? Absolutely.
This recipe features marinara, roasted portobello mushrooms, spinach, roasted zucchini, ricotta, mozzarella, and parmesan cheese.
And of course, the noodles are no-boil because while I can appreciate the art of fresh noodles or boiling your own, I don't have the patience!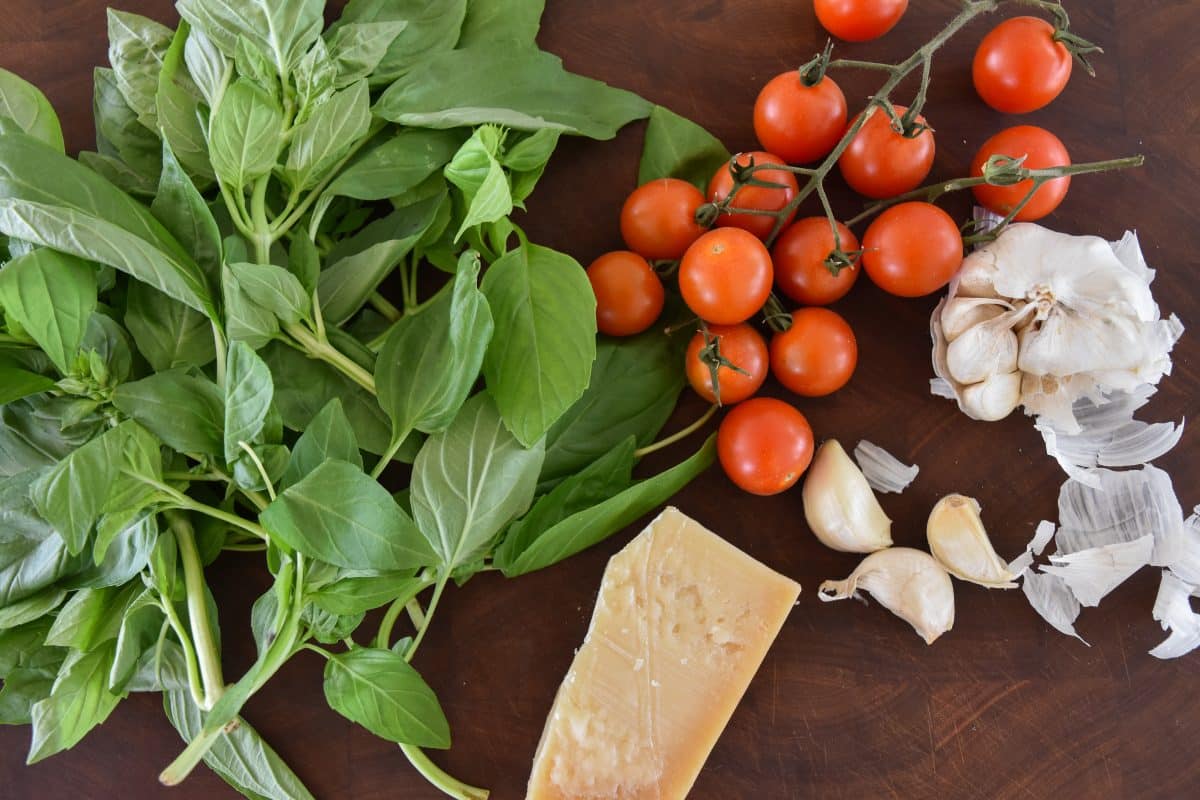 What is Lasagna?
Lasagna or lasagne, depending on who you are talking to, refers to the type of wide, flat noodle or to the baked dish we all know and love.
For the dish, meat or vegetables (sometimes both) are layered with noodles, cheese, and tomato sauce of some sort. From there it branches out into a wide array of variations ranging from classic to contemporary.
Some historians suggest it has existed since the Middle Ages. And in Italy, it has long been a dish served on holidays and for special occasions.
Generally speaking, it is best baked in a 9″ x 13″ baking dish that is at least 2 1/2″ deep. This allows you to have the proper number of layers without things spilling over. Most consider 3-5 layers of pasta best when making the dish.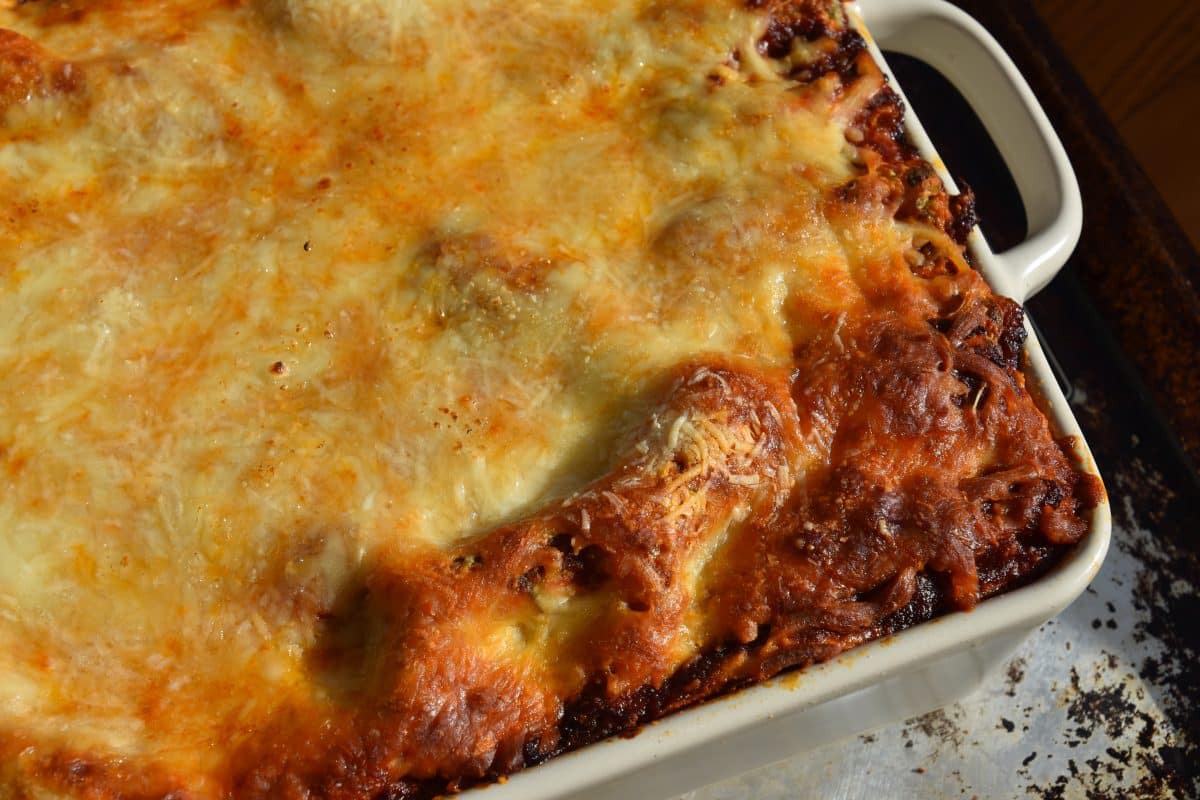 Ingredients
Everything you need to make 7 Layer Lasagna is easy to find at your local store.
Portobello Mushrooms – These have a nice meaty bite when roasted.
Zucchini – These have a lot of water naturally so roasting them before adding them to the dish is super important.
Cooking Spray – Great for greasing the baking dish and lightly coating the veg before they roast.
Coarse Kosher Salt – Everyone has their favorite. Mine is Morton's.
Black Pepper – Freshly ground black pepper is going to give you the pepper bite you want.
Ricotta Cheese – Full fart or part-skim – either is fine!
Egg – Adding this to the ricotta cheese helps to make it more substantial giving it texture while it bakes.
Basil – Brings an aromatic quality to the cheesy layers.
Flat Leaf Parsley – aka Italian Parsley – has a more subtle flavor than it's curly counterpart and tender texture.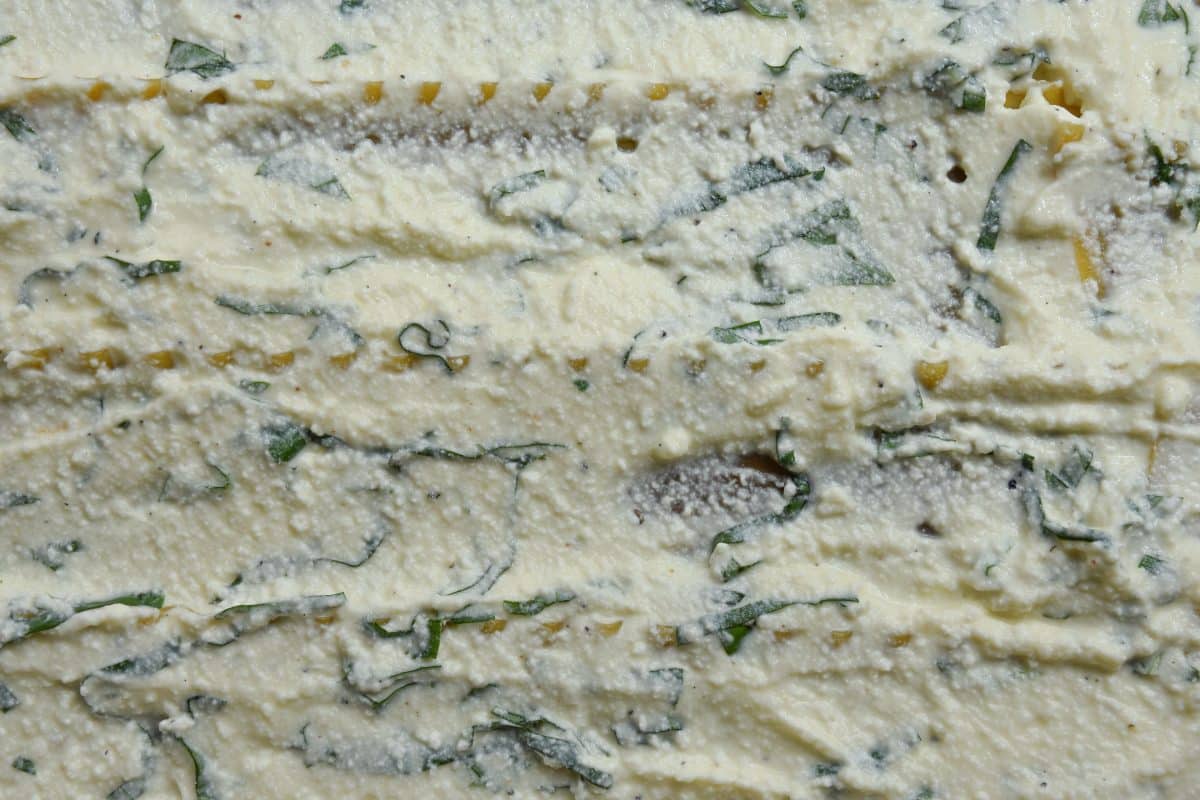 Nutmeg – Adding nutmeg to it helps to bring out the flavor and the sweetness of the cheese.
Marinara – Feel free to use your favorite jarred variety or try my Homemade Italian Marinara Recipe.
No Boil Lasagna Noodles – Be sure the front of the box reads "no-boil." The moisture of the other ingredients cooks them while the lasagna bakes.
Low-Moisture Shredded Mozzarella – Regular, full-fat mozzarella is going to have too much water and fat. Using it runs the risk of having a soggy lasagna and no one wants that!
Frozen Spinach – Feel free to cook down the same amount of fresh spinach if you have that instead. I like the frozen kind because I always have some on hand.
Parmesan Cheese – Buying a block of cheese is always best vs. the pre-shredded kind. It isn't mixed with de-clumping ingredients which prevent it from melting beautifully.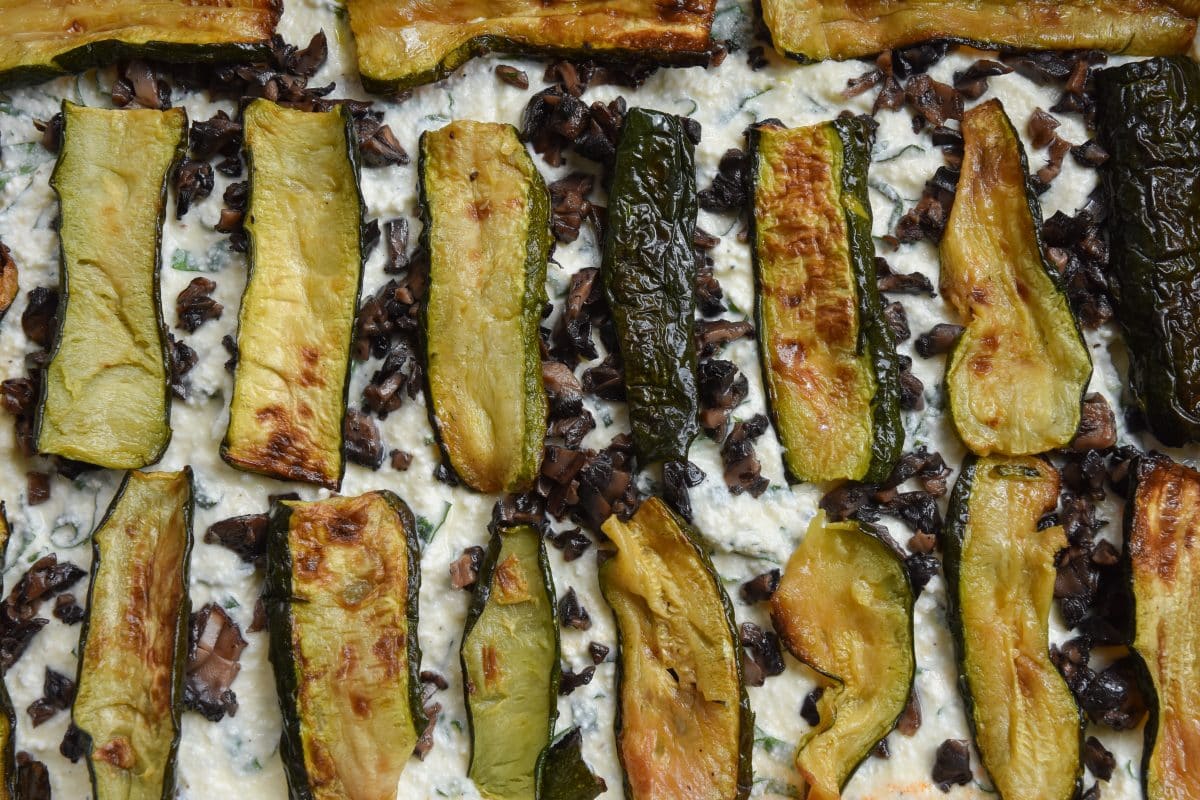 How to Make 7 Layer Lasagna
This recipe is a little involved, but every step is super easy!
Preheat the oven. While you wait, maximize your time and prep your vegetables and chop your herbs.
Prep the mushrooms. Give them a nice coating of cooking spray and a healthy amount of salt and pepper.
Prep the zucchini. This is a repeat of the same steps you did with the mushrooms on a separate tray.
Roast the vegetables. Both trays can go into the oven at the same time. Either on the same rack or on separate racks. You are looking for both the zucchini and the mushrooms to give up their water and brown. When you take them out of the oven, reduce the heat of the oven.
Make your ricotta mixture. Pretty straightforward dump and stir of ingredients here. Make sure everything is mixed well.
Build the base of your lasagna. A bit of marinara and a single layer of noodles to start. I layer mine lengthwise and then break a single noodle to fill in the gap at the end of the baking dish.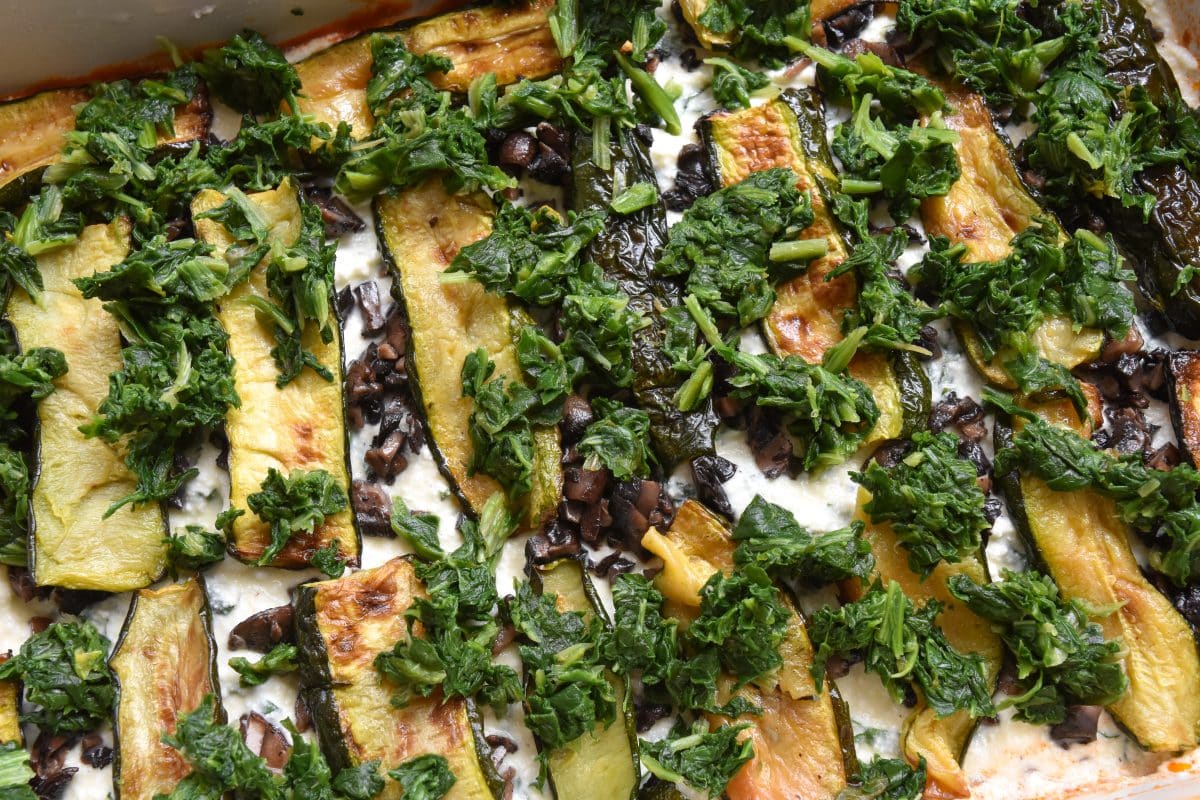 Layer the lasagna. On top of the noodles, spread an even layer of ricotta followed by mushrooms and zucchini. This isn't wall-to-wall veg (see below.) Spread them out a bit. Top them with mozzarella and more marinara.
Layering continued. Another layer of noodles is followed by marinara and mozzarella.
You guessed it – another layer! Noodles are first and then another layer of the ricotta mix followed by the rest of the mushrooms, zucchini, and spinach. And of course, some more mozzarella cheese.
Last but not least – more layers! Noodles to top things off. Those are covered by the remaining ricotta mix and the last of the marinara.
Cover and bake. I wait for the cheese on the top because it all too often sticks to the aluminum foil and then you lose that gorgeous cheesy cap. Don't worry, we will get there.
Top with cheese. Remove the foil and top with mozzarella and parmesan cheese. Pop it back in the oven uncovered so the cheese can get all melty and the corners can crisp.
Let it set. This is key! Lasagna needs to sit for 10-15 minutes before you cut into it or it will be an all-out pasta landslide. Giving it time to cool slightly will save the slide and the roofs of mouths.
What to Serve with 7 Layer Lasagna
This dish is great on its own, but is also absolutely fantastic alongside some of these easy favorites: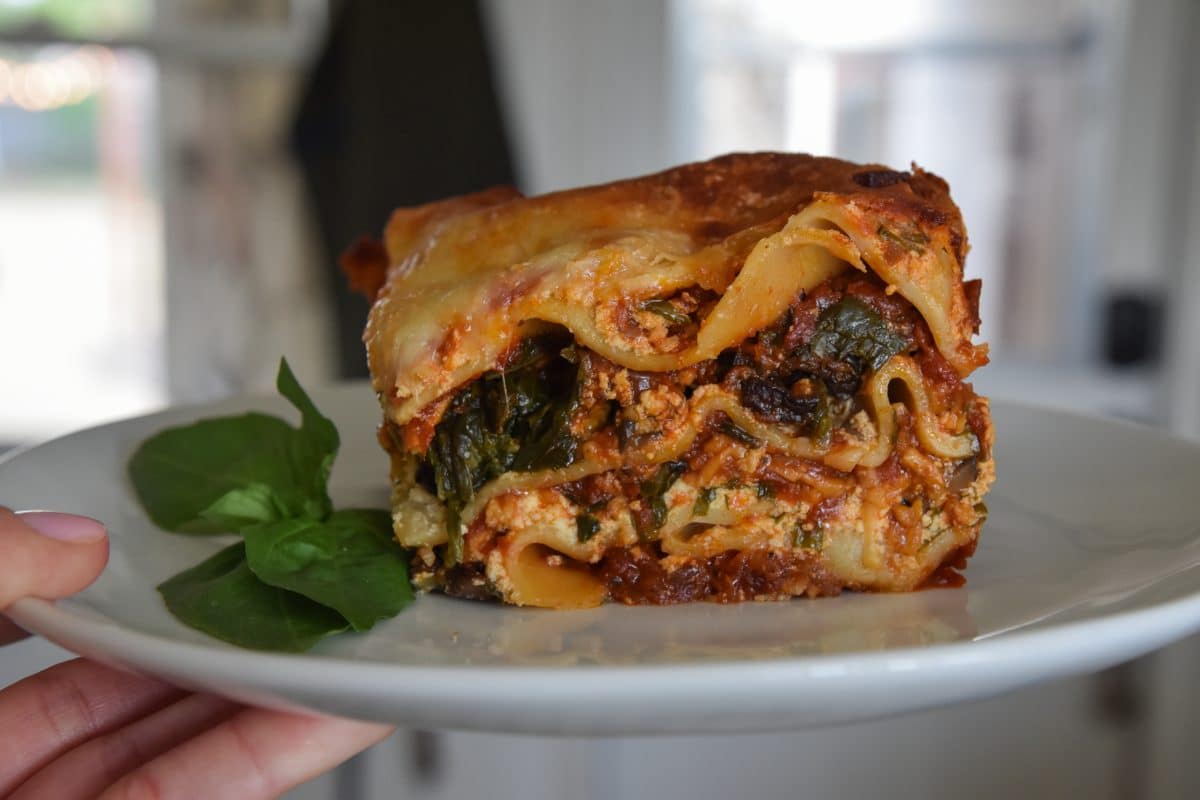 Storage and Freezing
Storage – You can tackle this one of two ways. First: cover tightly and pop into the fridge in the pan it was baked in once it has cooled. Two: you can cut it into individual slices and put those into convenient airtight containers. Either way, it will last up to a week in the fridge.
Freezing – The same goes as above in terms of tackling it one of two ways. I personally like to freeze them in individual portions in individual containers for a quick dinner for whoever is hungry. It will last in the freezer for about 3 months.
Questions About 7 Layer Lasagna
What is the perfect number of layers for lasagna?
This truly depends on the size of the pan. The crazy restaurants making 100-layer lasagna are working with larger pans and thinner noodles. For the home cook making lasagna in a 9×13″ baking dish that is roughly 2 1/2″ inches deep, the ideal number of noodle layers is 3-5.
Does it matter how you layer lasagna?
The only rule of thumb I try to follow is to create a base of sauce in the bottom of the pan to make sure the noodles do not stick as it bakes. From there, layer as you see fit and for what fits in the pan. Try to keep the layers even and always include sauce if you are using no-boil noodles as they need the moisture to cook properly.
Do you mix egg with ricotta in lasagna?
I have done it both ways and I have to say, mixing the ricotta with egg does help it to set up better. Without it, the ricotta has a tendency to melt away; melding with the rest of the ingredients. It isn't a necessity, but it does help to create beautifully defined layers and has a great texture.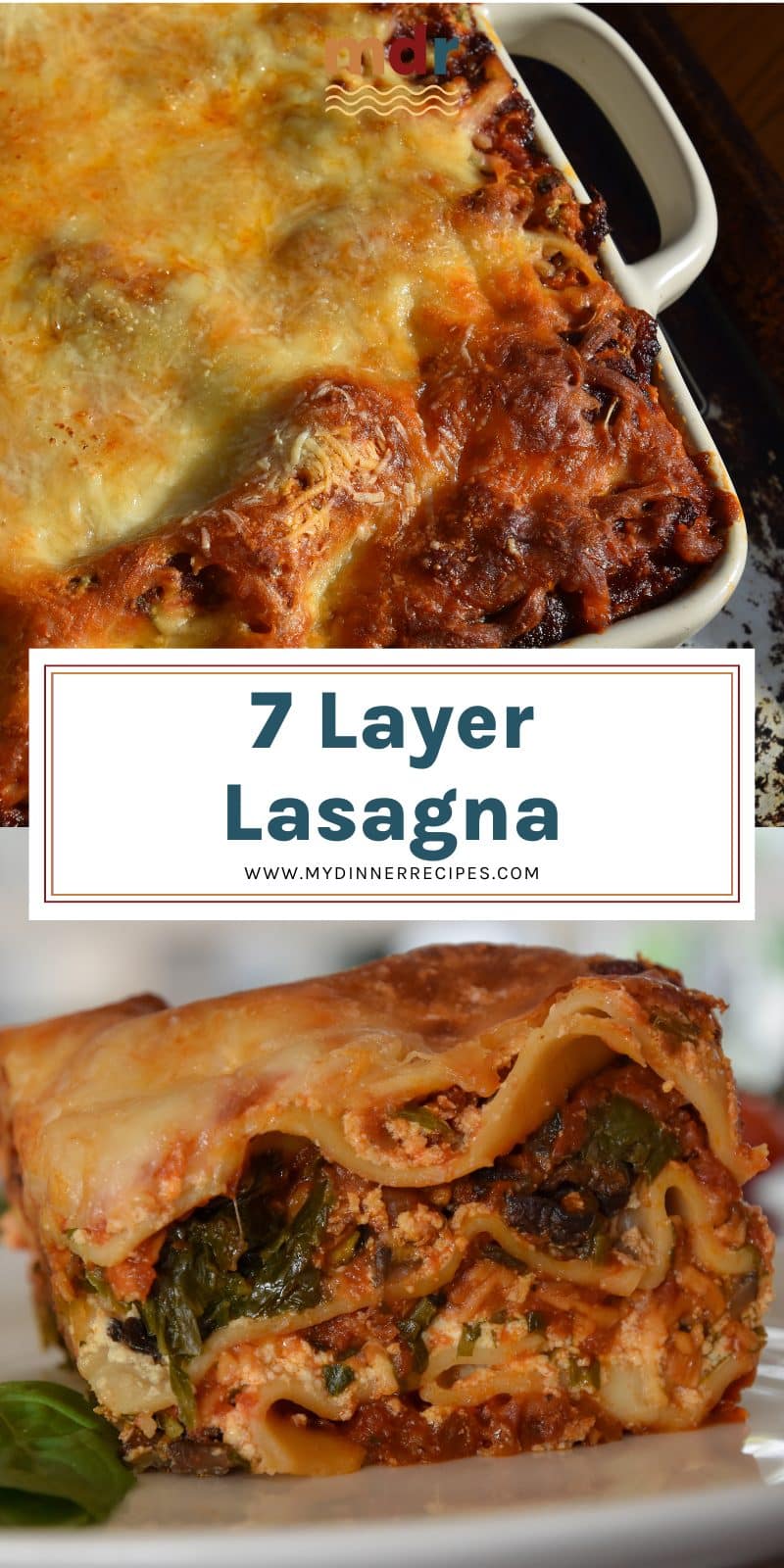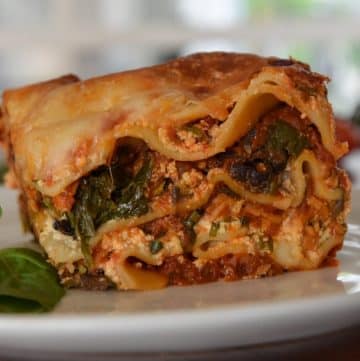 7 Layer Lasagna
Loaded with spinach, mushrooms, zucchini, three types of cheese, and marinara, this 7 Layer Lasagna is sure to be a hit!
Ingredients
5

portobello mushroom tops

cut into 1/4" thick slices

4

zucchini

halved lengthwise and cut into 1/4" slabs

cooking spray

as needed

coarse kosher salt

to taste

freshly ground black pepper

to taste

32

oz

ricotta cheese

2

eggs

lightly beaten

1

small bunch

basil

cut into thin strips

1/2

cup

flat leaf parsley

chopped

1

pinch

ground nutmeg

6

cups

marinara

2

boxes

no-boil lasagna noodles

24

oz

low-moisture shredded mozzarella cheese

divided

1

lb

frozen spinach

thawed, cooked, and water squeeze out

freshly grated parmesan cheese

for topping and garnishing
Instructions
Preheat the oven to 425F.

Arrange the mushroom slices on a baking sheet and spray with cooking spray. Season with a pinch of salt and a few grinds of black pepper. Flip and repeat.

On a separate baking sheet, arrange the zucchini slices. Spray with the cooking spray, season with a pinch of salt, and a few grinds of black pepper. Flip and repeat.

Put the two trays in the oven and roast the veggies for 6-7 minutes. Take them out, carefully flip, and roast until tender and brown. This should be another 5-6 minutes. Set aside to cool slightly. Reduce the heat in your oven to 375F.

Create your ricotta mixture. Mix the ricotta, the 2 eggs, basil, parsley, nutmeg, and a healthy pinch of kosher salt until evenly combined. Set aside.

Assemble your lasagna. Spread 1 ½ cups of the marinara in the bottom of the baking dish. Arrange the noodles so the edges touch the marinara. You may need to break one into pieces to fill in the very end of the pan.

Spread 1 1/2 cups of the ricotta over the noodles gently. Arrange half of the mushrooms over that evenly followed by half of the zucchini slices. Sprinkle half of the spinach over this followed by ½ cup of the shredded mozzarella and another 1 ½ cups of marinara.

Add another layer of noodles followed by  ½ cup of the shredded mozzarella and 1 ½ cups of marinara.

Add another layer of noodles. On top of this spread 1 1/2 cups of the ricotta mix evenly followed by the remainder of the mushrooms, zucchini, spinach, and another ½ cup of the mozzarella.

Add another layer of noodles. Top with the remaining ricotta and the last 1 ½ cups of marinara.

Cover the dish with aluminum foil and bake for 45 minutes at 375F.

Remove the pan, remove the foil, and top with a good layer of mozzarella followed by a healthy dose of fresh parmesan. Return to the oven for another 10-15 minutes or until the cheese is bubbling and the corners are brown.

Allow to cool for 10-15 minutes before cutting and serving. Enjoy!
Nutrition
Serving:
1
piece
Calories:
515
kcal
Carbohydrates:
47
g
Protein:
32
g
Fat:
24
g
Saturated Fat:
13
g
Polyunsaturated Fat:
1
g
Monounsaturated Fat:
6
g
Trans Fat:
0.003
g
Cholesterol:
122
mg
Sodium:
1084
mg
Potassium:
925
mg
Fiber:
5
g
Sugar:
8
g
Vitamin A:
5848
IU
Vitamin C:
22
mg
Calcium:
631
mg
Iron:
3
mg