I am an absolute sucker for finger foods and these Steamed Artichokes are easy and oh so dippable! The perfect appetizer or side to round out your meal!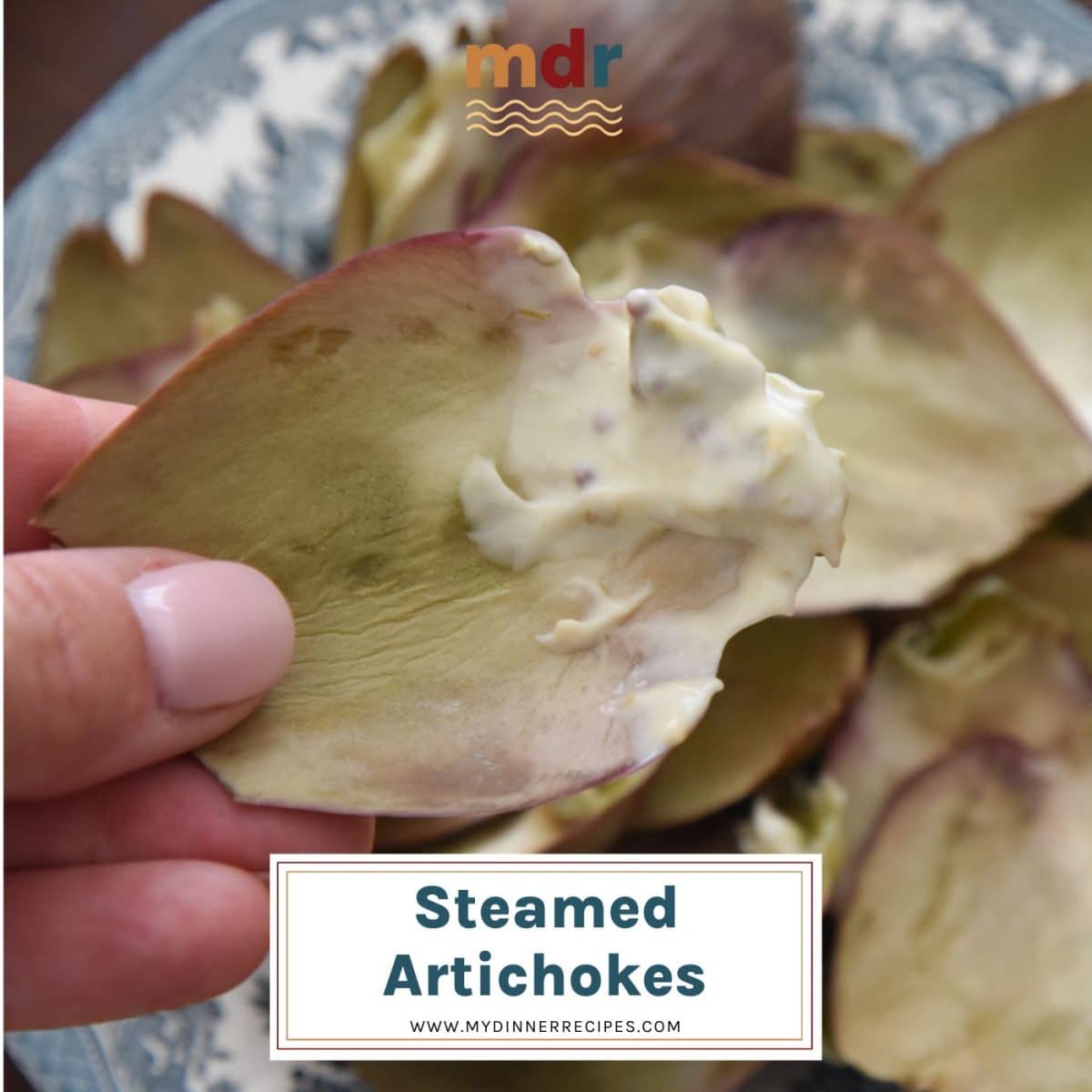 When it comes to making dinner, artichokes might not be the first vegetable you think of, but they should be! They are a no-brainer to cook and can be eaten by themselves or with a tasty dipping sauce.
Truth be told, I didn't try fresh artichokes until I was an adult. My boss ordered them at a restaurant while we were on a work trip. After she showed me how to eat them, it was love at first bite.
Why You'll Love Steamed Artichokes
This recipe is so tasty you won't be able to pass up the artichokes when you see them in the produce aisle.
Eat With Your Hands – Dishes that allow you to forgo the fork and knife are few and far between. I love the casual nature of peeling and eating the leaves from artichokes before you get to the succulent center.
Super Approachable – If you didn't grow up eating these, they might seem a bit intimidating, but once you learn the technique, they will be on your table on repeat.
Set & Forget – Once your artichokes are steaming, you can focus your attention on other things whether it be cooking or replying to emails.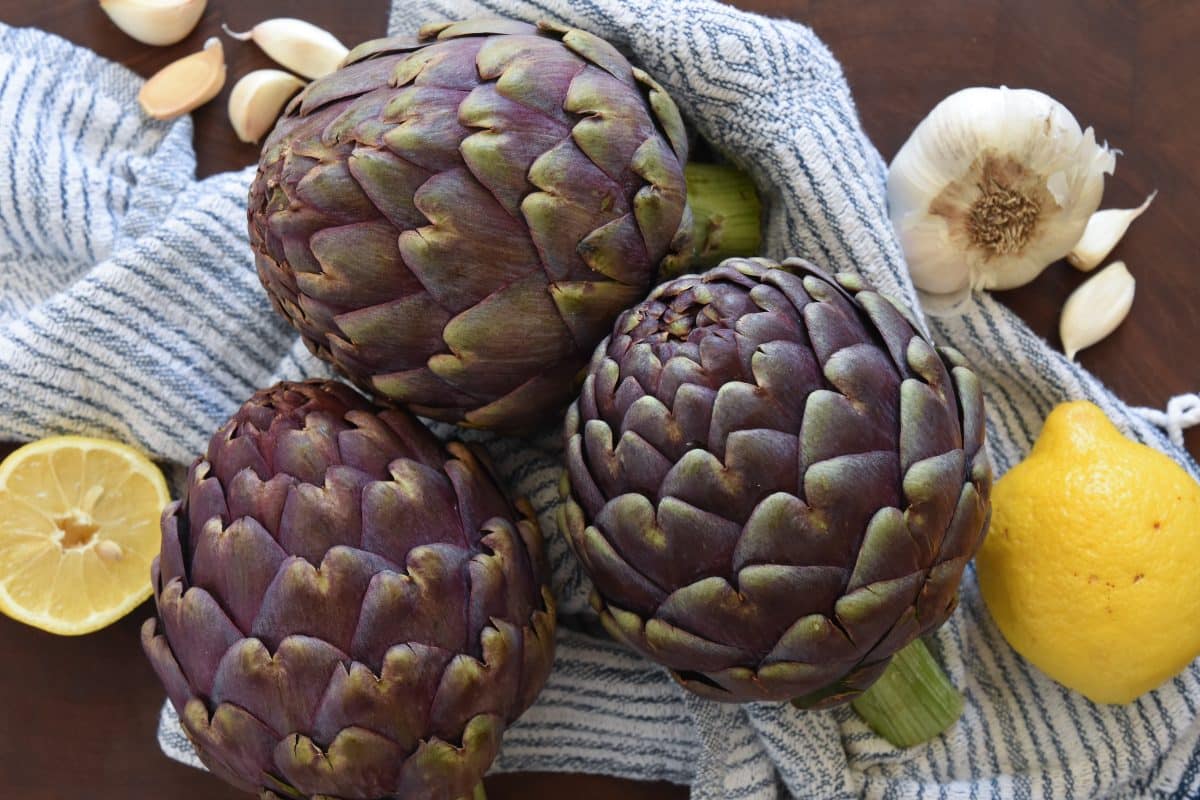 What are Artichokes?
Artichokes are vegetables made up of leaves densely layered around a meaty (and edible) heart. They are part of the thistle family (genus Cynar) and what we are eating is actually the immature flower bud before the plant has bloomed.
Grown in places like California, Spain, France, and Italy, they are popular in European cuisines as well as in the US. The base of each leaf offers a small bit of "meat" easily pulled off with your teeth and in the innermost part of the bud, you'll find the artichoke heart.
With a nutty flavor that pairs well with acidity, artichoke leaves and hearts are absolutely edible whereas the choke which almost looks like hair is not. And don't forget about the center of the stem which is also a tasty treat!
Fun fact: these veggies were originally cultivated in the Mediterranean and are often thought of as one of the oldest foods. While not the most inexpensive vegetable, they are certainly one of the tastiest.
Types of Artichokes
Just like some of your other favorite vegetables, artichokes come in different varieties.
Globe Artichokes – These are predominantly what you will find in U.S. grocery stores. Large, round, and green, they come in regular and thornless varieties. they have buttery hearts.
Baby Artichokes – Smaller in size than the globe artichokes, these have a sweeter, nuttier taste to them. They are popular because the choke is edible!
Chianti Artichokes – Much like the globe artichoke in size and taste, this variety features dark purple and green leaves.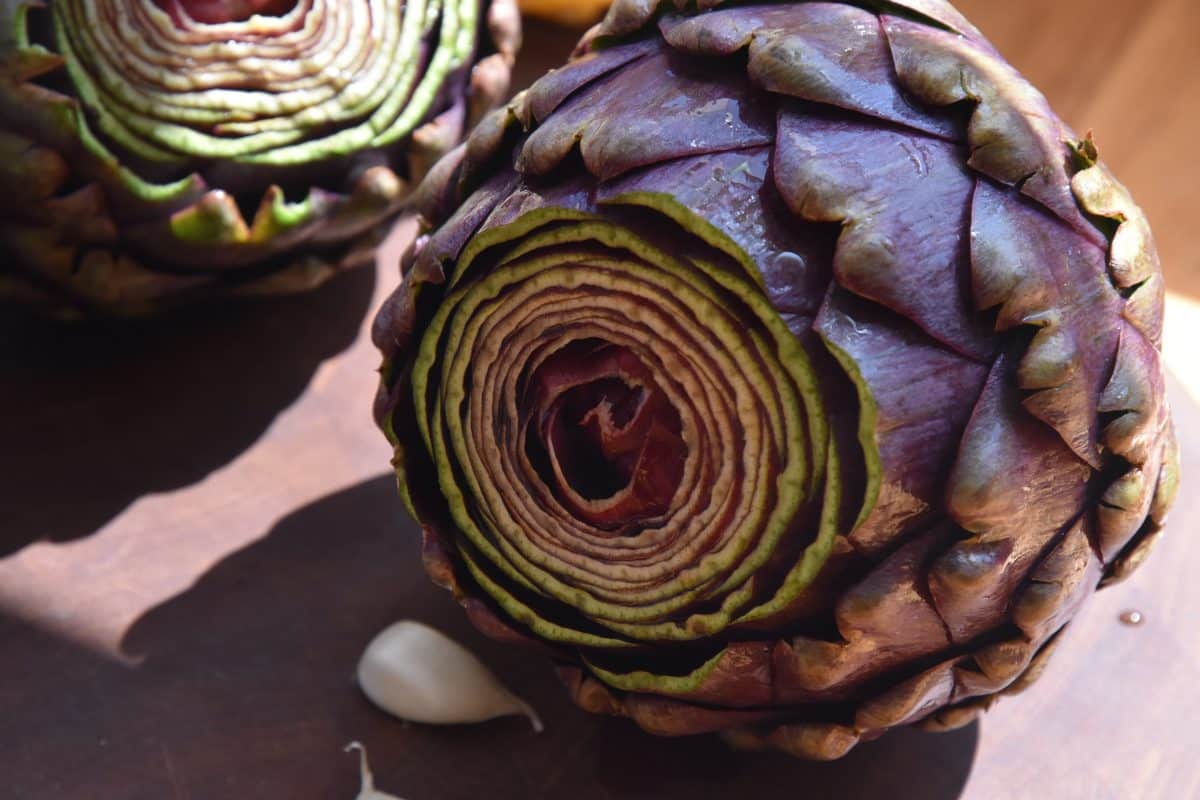 Ingredients for Steamed Artichokes
It doesn't take much to create these incredibly flavorful Steamed Artichokes and the zesty caper dipping sauce I like to pair with them.
For the Steamed Artichokes:
Whole Artichokes – Look for fresh artichokes that have leaves that lay close together. The color should be vibrant and they should feel heavy for their size. Keep in mind: the larger the artichoke, the longer it will take to steam.
Garlic Cloves – Simply peel and crack with the side of a flat knife to help release the oils and flavor. These will give your artichokes an aromatic steam bath.
Lemon – This serves to create an aromatic steaming environment for the artichokes and also helps to prevent them from browning as you prep them. More on that later.
For the Zesty Dipping Sauce:
Mayo – Super popular as a base for dips served alongside artichokes. If you are looking to cut calories or for something lighter, swap this for Greek yogurt.
Whole Grain Mustard – Great for little pops of flavor and acidity.
Capers – Drain before chopping and adding to the sauce.
Champagne Vinegar – With a mild floral taste and the acidity that comes with any type of vinegar, it pairs nicely with the nuttiness of the artichokes.
Lemon Juice – Brings brightness to the sauce.
Lemon Zest – Helps to give you the sharp "lemon" flavor the juice can't give on its own.
Coarse Kosher Salt – The capers and mustard will bring a bit of saltiness to the sauce so be sure to taste it prior to salting so you know what your baseline is.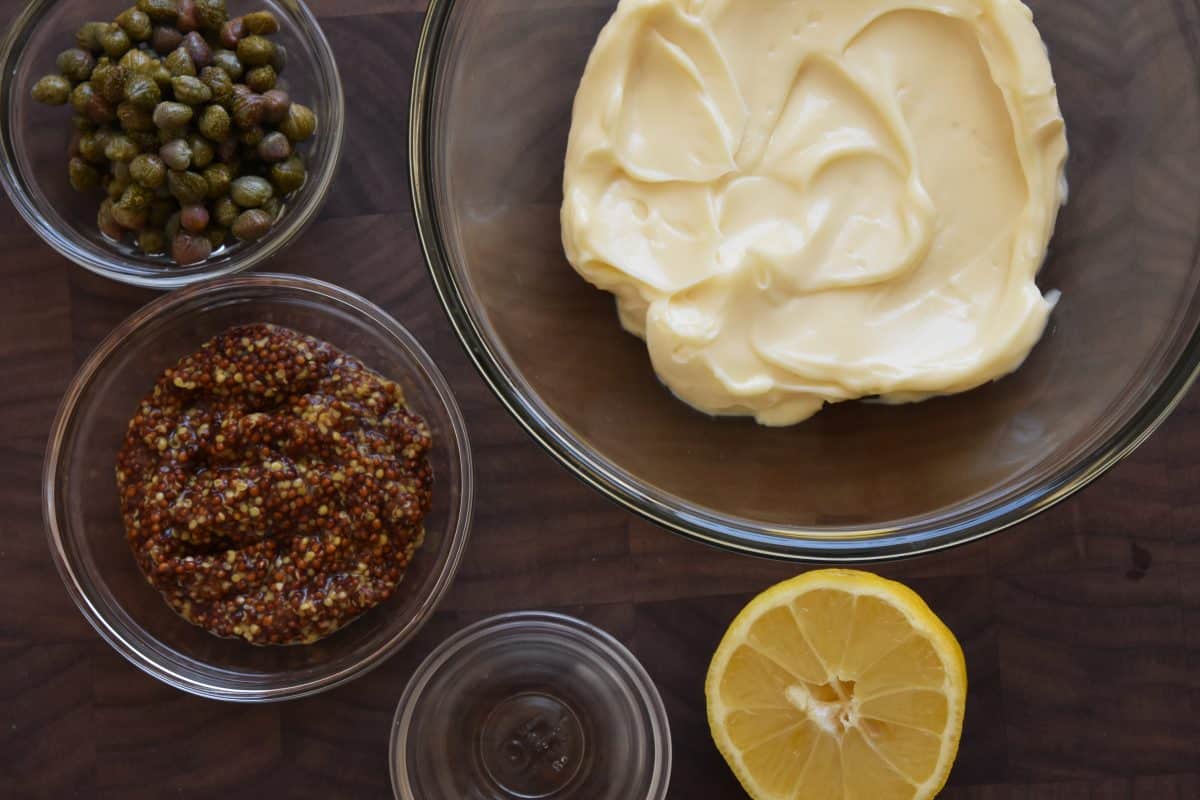 How to Make Steamed Artichokes
The process of prepping the artichokes may seem challenging but do it once, and the next time will be easy peasy.
For the Steamed Artichokes:
Prep the pot. Add the water and the aromatics and lower in the steamer basket. I sometimes err on the side of caution with a little extra water so if it comes up past the base of the steamer basket don't worry.
Prep the artichokes. Work with one artichoke at a time by first trimming the end of the stem and peeling away any pesky leaves. I like to use a vegetable peeler to strip away the tough exterior of the stems as well. Grab a serrated knife and carefully lop off the top of each artichoke. You can do this with a kitchen knife but be sure it is sharp otherwise it can be hazardous. Rub the open face of the artichoke with the remaining lemon half to prevent it from browning. If your artichokes have thorns, use kitchen shears or some sharp scissors to clip them away. (They do soften as they steam, but it is nice to not have to worry about it.)
Steam! The timeline for this will depend on the size of your artichokes. The average time will be about 25-35 minutes. Add more water if needed.
Serve and enjoy. Allow the artichokes to cool a bit before serving as they will be piping hot. I like to serve mine whole but feel free to slice them in half (top to bottom) to make it easier for guests to eat.
For the Zesty Caper Dipping Sauce:
Dump and stir. Mix the measured ingredients together and give the sauce a taste. Does it need more salt? More mustard? More capers? Feel free to doctor it up to your tastebuds' liking.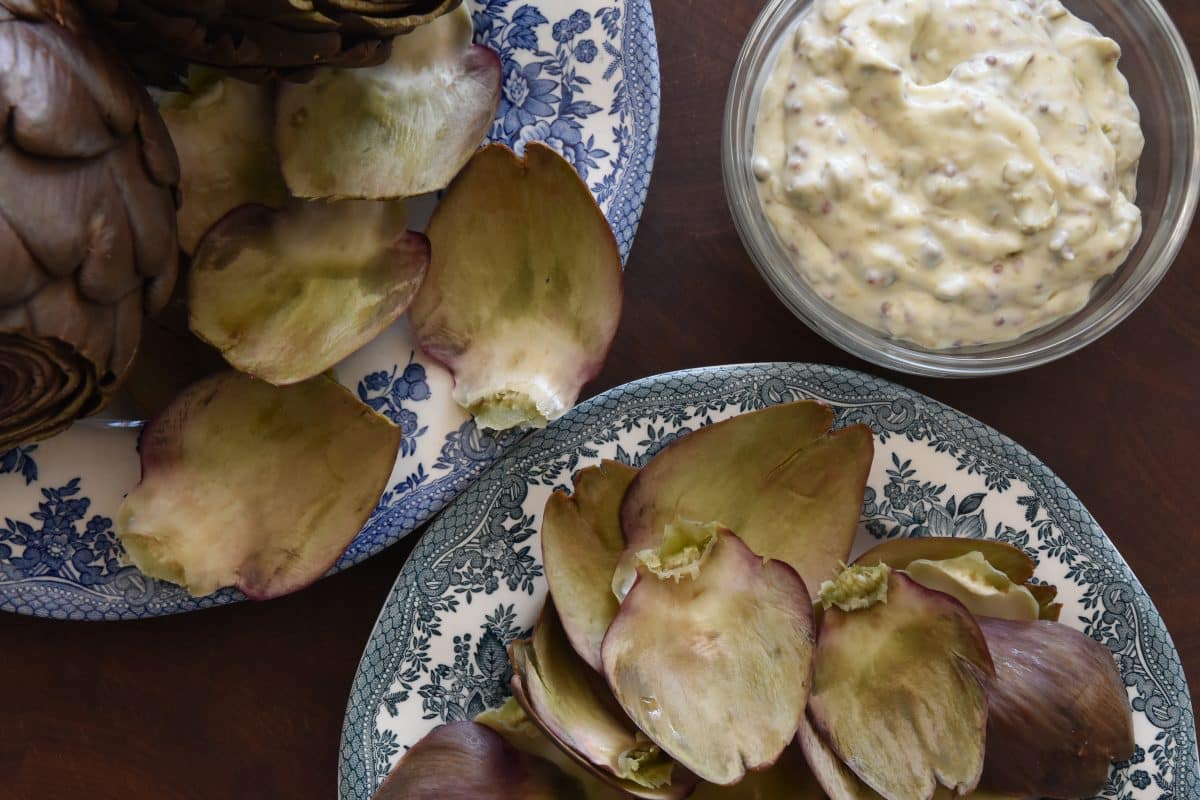 Variations
Steamed Artichokes are fairly straightforward, but there are a few variations you can try.
Try a different type of artichoke. If you are lucky enough to have more than one variety at your local store, try them out!
Grab some herbs. I love the sauce as is, but if I have some herbs laying around, you better believe I am chopping them up and adding them in. Chives, flat-leaf parsley, and tarragon if you have it are each great on their own or together. I would say a tablespoon of each is perfect.
Swap the mayo for Greek Yogurt. Not all of us love mayo and some of us are watching our waistlines. If you fall into one of those categories, grab the Greek yogurt instead of the mayo. A little drizzle of olive oil will help to thin it out if it seems too thick.
Butter it up! If you want to make it really easy, skip the sauce and melt a bit of salted butter to dip your artichokes into.
Storing and Freezing
Storing: Steamed Artichokes can be stored in an air-tight container in the fridge for up to three days. The same goes for the sauce. Serve cold as the artichokes are likely to fall apart if you reheat them.
Freezing: I do not recommend freezing the Steamed Artichokes or the Zesty Caper Dipping Sauce.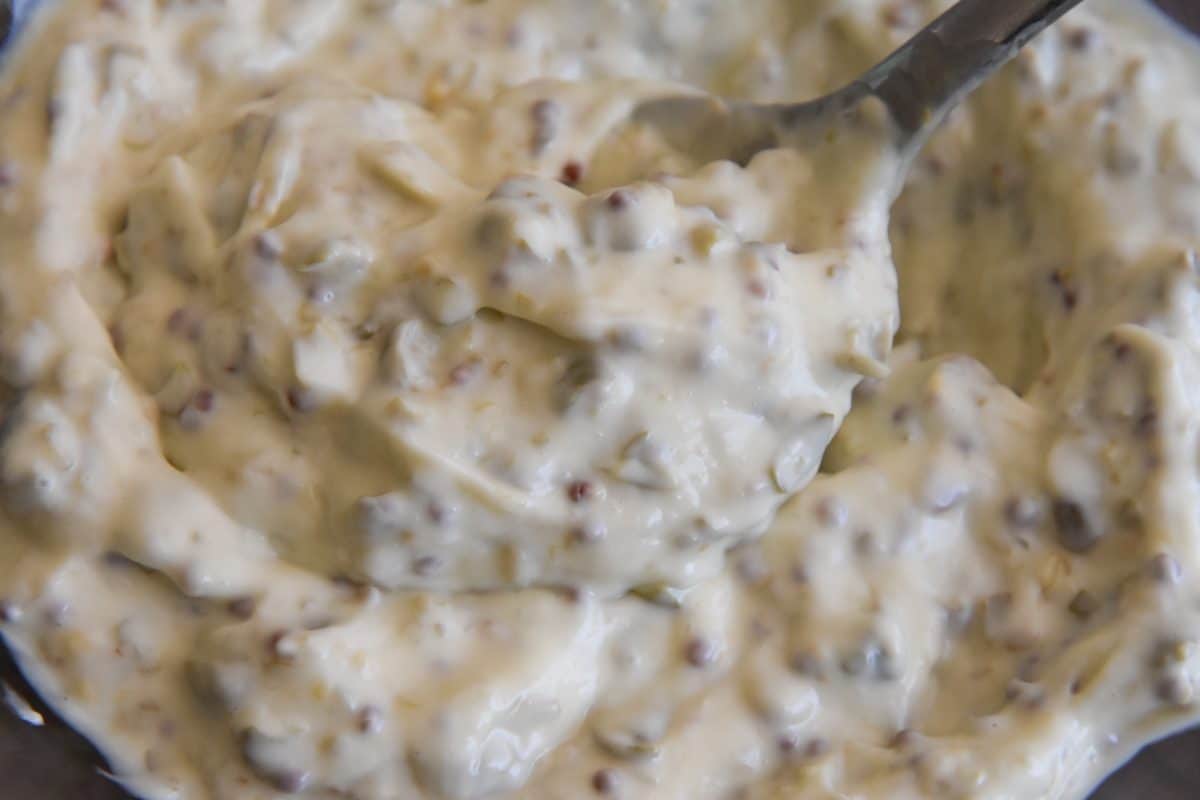 Questions About Steamed Artichokes
How long does it take to steam a large artichoke?
Generally, this can take anywhere from 25-35 minutes depending on the size of your artichokes and the amount of water you have. You will know they are done when you can easily pull a leaf out.
Should artichokes be steamed or boiled?
This is a matter of preference! You can absolutely do both. I prefer the steamed variety because they tend to be less water-logged and more tender. That said, there was a time in my life when I didn't have a steamer basket and you better believe I was boiling them.
How long do you steam artichokes cut in half?
Cutting artichokes in half and then steaming them is a great tactic if you are short on time. They generally take 15-20 minutes if they are steamed cut side down.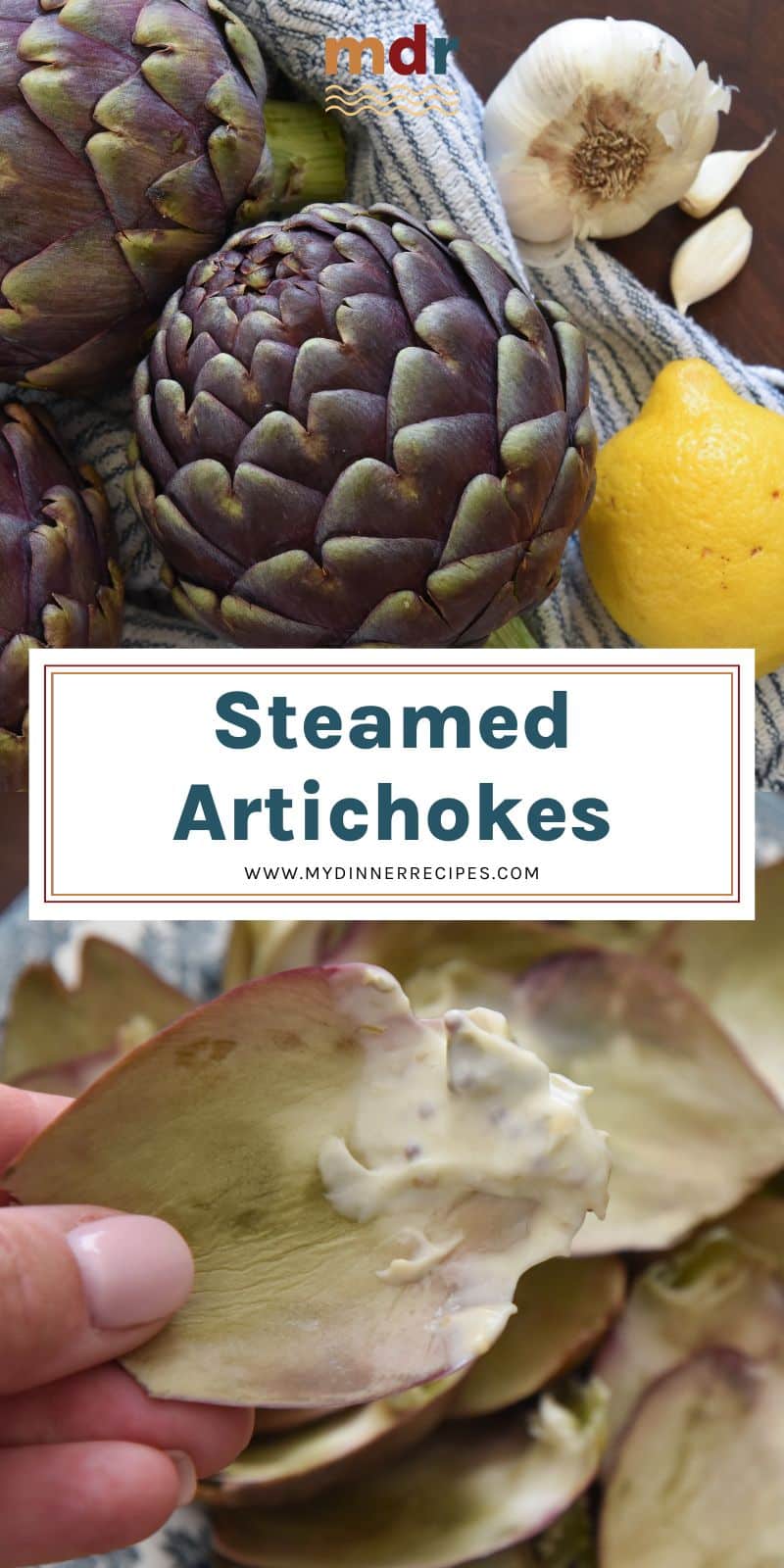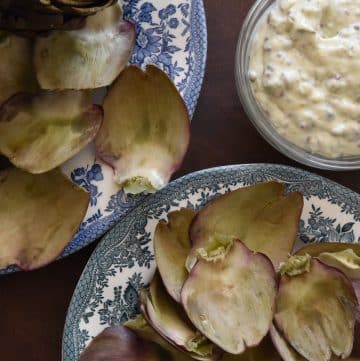 Steamed Artichokes
Steamed Artichokes are a tasty way to get your vegetables. Served with zesty caper dipping sauce, they are the perfect appetizer or side!
Ingredients
For the Steamed Artichokes:
4

whole artichokes

3

cloves

garlic

peeled and cracked with flat side of knife

1/2

lemon

cut into slices
For the Zesty Caper Dipping Sauce:
3/4

cups

mayo

1

tablespoon

whole grain mustard

1 1/2

tablespoons

capers

chopped

1/2

teaspoon

champagne vinegar

1/2

teaspoon

fresh lemon juice

1/2

teaspoon

lemon zest

1/4

teaspoon

coarse kosher salt

plus more if needed to taste
Instructions
For the Steamed Artichokes:
Add ½ an inch of water to a large pot followed by the garlic cloves and all but 1 of the lemon slices. Lower the steaming basket into the water, cover it, and turn the heat to medium. Allow to heat while you prep the artichokes.

Cut the stem of each artichoke so that it is flat. Remove any small leaves from the stems with a pairing knife. Working carefully, use a serrated knife to cut the top ¼ of each artichoke off. Rub the flat face of the artichoke with a lemon slice to prevent browning and discoloration. Use kitchen shears to cut away any thorny leaf tips before continuing the same process with the remaining artichokes.

Place the artichokes into the pot. Cover and reduce heat to medium-low so the water is just simmering underneath the steaming basket. Allow to steam for 25-35 minutes depending on the size of your artichokes. Smaller will be on the shorter end while larger will be on the longer end.

When done, carefully removed and allow to cool 5-10 minutes (or to room temperature) before serving with the Zesty Dipping Sauce.
For the Zesty Dipping Sauce:
Combine all ingredients in the bowl. Give it a quick taste to see if it needs more salt and/or more lemon juice. Adjust accordingly, stir, and enjoy!
Nutrition
Serving:
1
artichoke
Calories:
356
kcal
Carbohydrates:
16
g
Protein:
5
g
Fat:
32
g
Saturated Fat:
5
g
Polyunsaturated Fat:
19
g
Monounsaturated Fat:
7
g
Trans Fat:
0.1
g
Cholesterol:
18
mg
Sodium:
657
mg
Potassium:
518
mg
Fiber:
8
g
Sugar:
2
g
Vitamin A:
54
IU
Vitamin C:
24
mg
Calcium:
71
mg
Iron:
2
mg