My other half has been bugging me to make Hamburger Helper for years. Likely due to the fond memories of those boxed Cheeseburger Macaroni Skillets. I ditched the box, made my own, and wow is it delicious!
I will be completely honest. Prior to this requested dish, I had not tried Hamburger Helper. So I went to the store, got a box, and decided to see what the fuss was about.
Was it good? Sure. Could it have been better? Absolutely! My version takes the same amount of time as the box and doesn't include powdered cheese.
Why You'll Love Cheeseburger Macaroni Skillet
Talk about a great ground beef recipe with oodles of cheddar cheese, tasty seasonings, and zippy tomatoes ready in just 20 minutes! Perfect for busy nights and introducing a new generation to a classic – no box here.
Hands down, this is the fanciest Hamburger Helper you have ever eaten!
What is Cheeseburger Macaroni Skillet
This one-dish meal features ground beef, macaroni, tomatoes, beef broth, and gooey cheese.
For those of you that don't know, Hamburger Helper is an absolute classic. With a single box, a pound of ground beef, water, or milk, you had a one-dish meal for the entire family.
My take is the same concept, only I skipped the seasoning packet and powdered cheese and really amped up the flavor.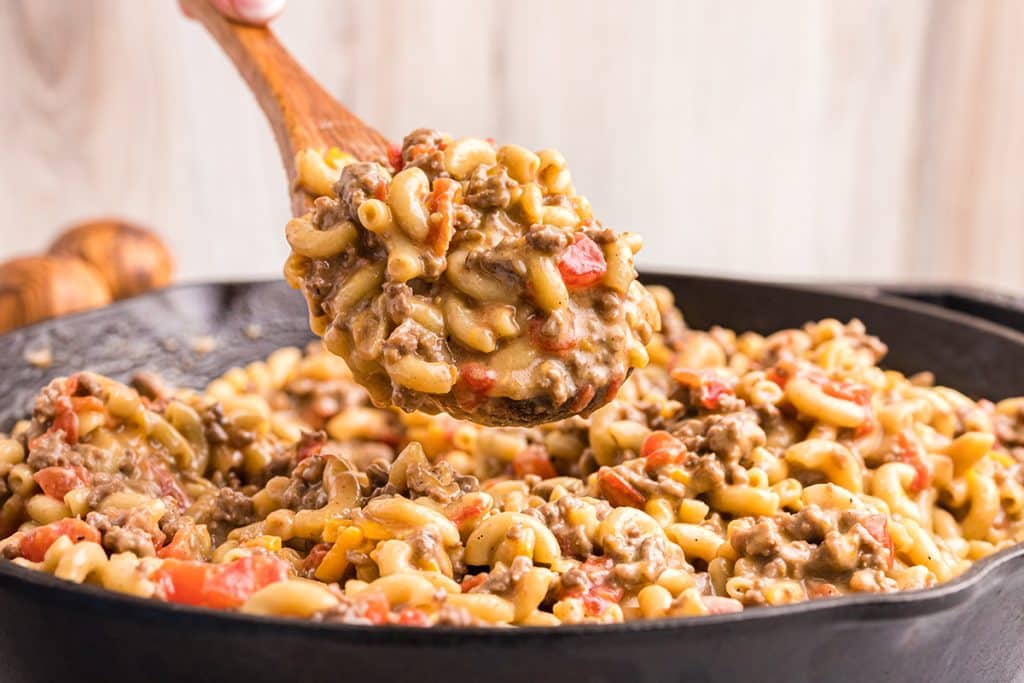 Cheeseburger Macaroni Skillet Ingredients
This simple ingredient list can easily be found at your local grocery store.
Butter – I always opt to use unsalted butter when cooking, because I can control the amount of salt that goes into what I am cooking.
Ground Beef – For a more decadent dish, buy something with a higher fat ratio. If you are watching your calories, go with something a little leaner.
Salt and Pepper – A mix of coarse sea salt and ground black pepper is a great way to season this dish. If you use salted butter, go ahead and omit the salt altogether.
Seasonings – Besides the salt and pepper, all we need to season this meal is garlic powder and onion powder.
Beef Broth – I prefer to use low sodium because it keeps the salt content down, but you can also use chicken broth, chicken stock, or vegetable broth if needed and in a pinch.
Elbow Macaroni – This pasta shape is easy to find and a classic when it comes to Hamburger Helper.
Whole Milk – Full-fat milk helps the cheese sauce to be rich and decadent. Low-fat milk can be used if need be, but the sauce texture will likely be a little thinner.
Cheddar Cheese – No artificial cheese here. Anything from sharp to mild cheddar will work so go with whatever your family or friends will enjoy the most.
Petite Diced Tomatoes – I like the flavor and tang the tomatoes add not to mention the color they bring to the dish, but be sure to drain them well. Any extra liquid could cut down on the velvety sauce.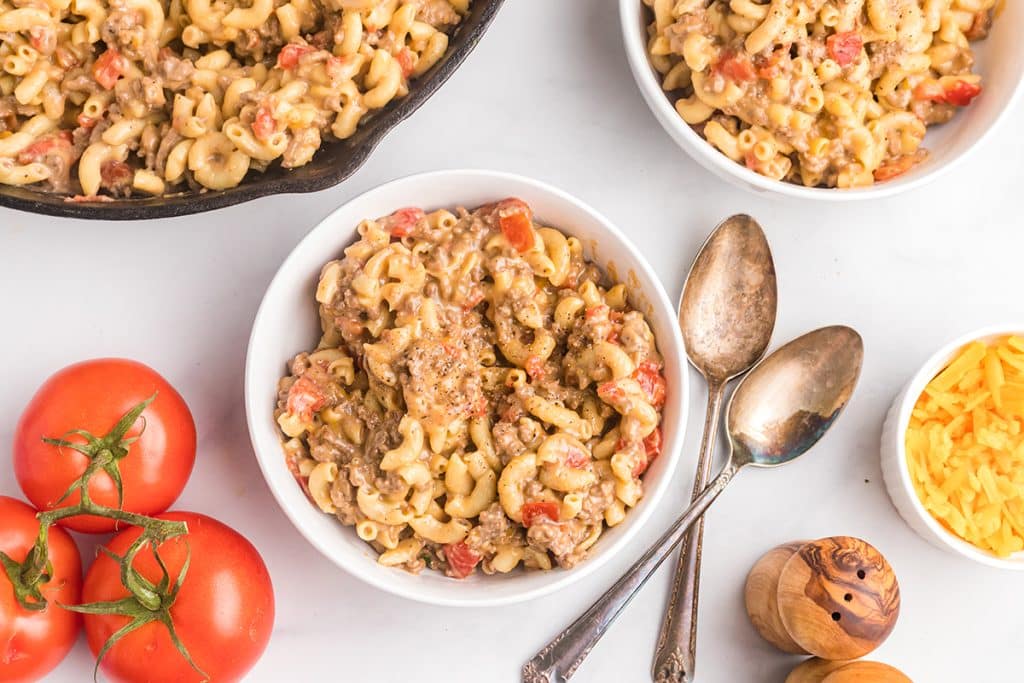 How to Make Cheeseburger Macaroni Skillet
Cook the beef. Cast iron is going to be the best option here because it retains heat so well and evenly. This will help to crisp up the beef quickly. The butter is there for flavor and to help those seasonings evenly distribute as the crumbled ground beef is cooking.
Drain the pan and cook the pasta. There will be more liquid or fat in the pan than is pleasant for this dish. Carefully tilt the pan and use a spoon to get out as much of it as you can. Add the pasta and the broth and while the pasta boils the flavor of the browned beef, seasonings, and the beef broth will flavor it while it cooks.
Create the sauce. Fun fact: as pasta boils the starches from it leech into the cooking liquid. That's the genius of this dish. The residual starchy liquid mixes with the milk and the cheese to create a decadent cheese sauce for the noodles. Don't forget to fold in the tomatoes here if you are using them and serve!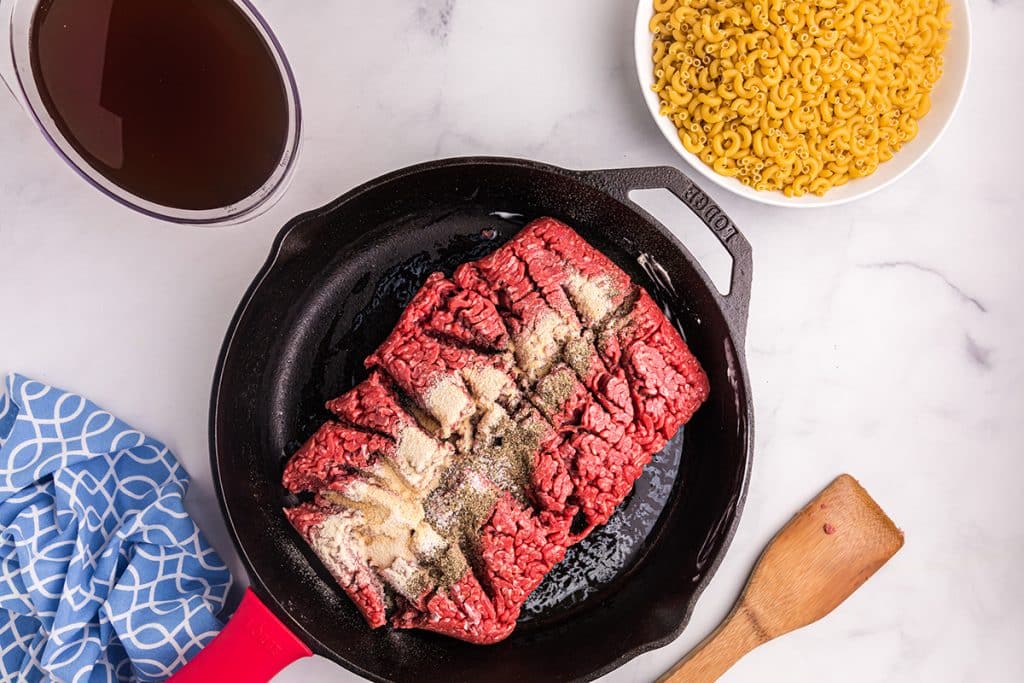 What to Serve with Cheeseburger Macaroni Skillet
I like to pair mine with a simple green salad dressed with Creamy Italian Dressing and sprinkled a quality Maldon sea salt over top. You will have your vegetable, starch, and protein all ready to go.
Variations
Lots to do here if you are feeling like you want to change it up or if you have dietary restrictions.
Swap the protein – Ground turkey or ground chicken are great substitutes if you want leaner meat.
Swap the cheese – Not a fan of cheddar? Feel free to try another cheese or cheese blend of your choice. Sometimes you just need to clean out the fridge, right?!
Change the pasta – Any pasta will do, but generally speaking, I like a small shape. Penne, rigatoni, shells, orechiette, or even ditalini are all great swaps here.
Amp up the heat – Add red pepper flakes or serve it with your favorite hot sauce on the side.
Play with flavor – Consider adding some Worcestershire sauce or even Montreal steak seasoning to this classic comfort dish for even more deliciousness.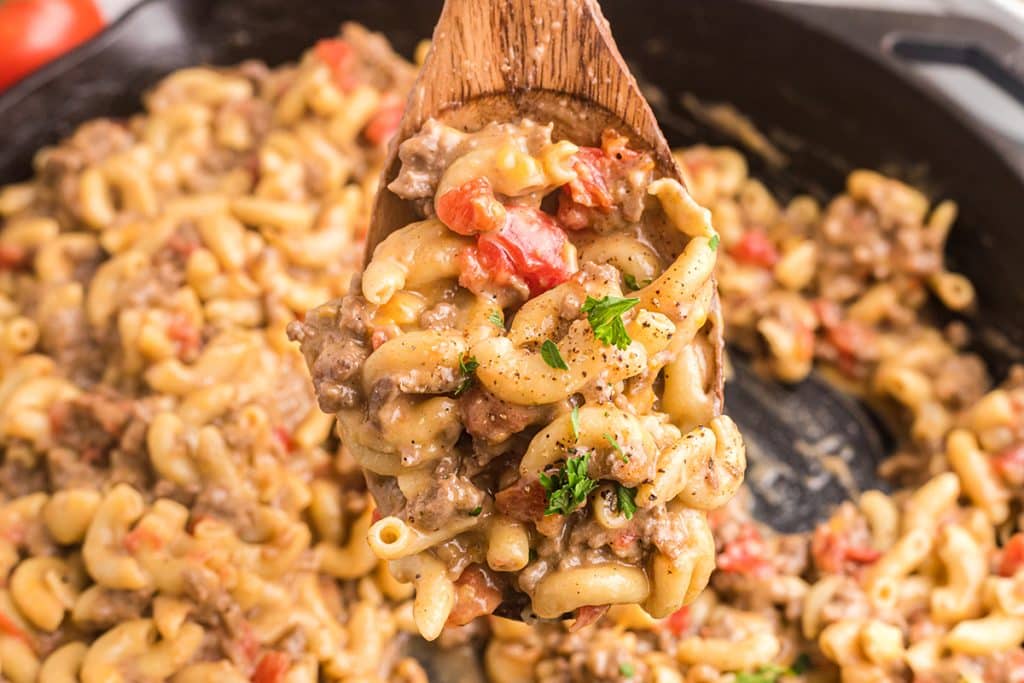 Storage and Freezing
Storage: You can store leftover hamburger helper in an airtight container in the refrigerator. It will stay good for up to three to four days.
Freezing: I do not recommend freezing this recipe. Cooked pasta doesn't thaw at the same texture as before.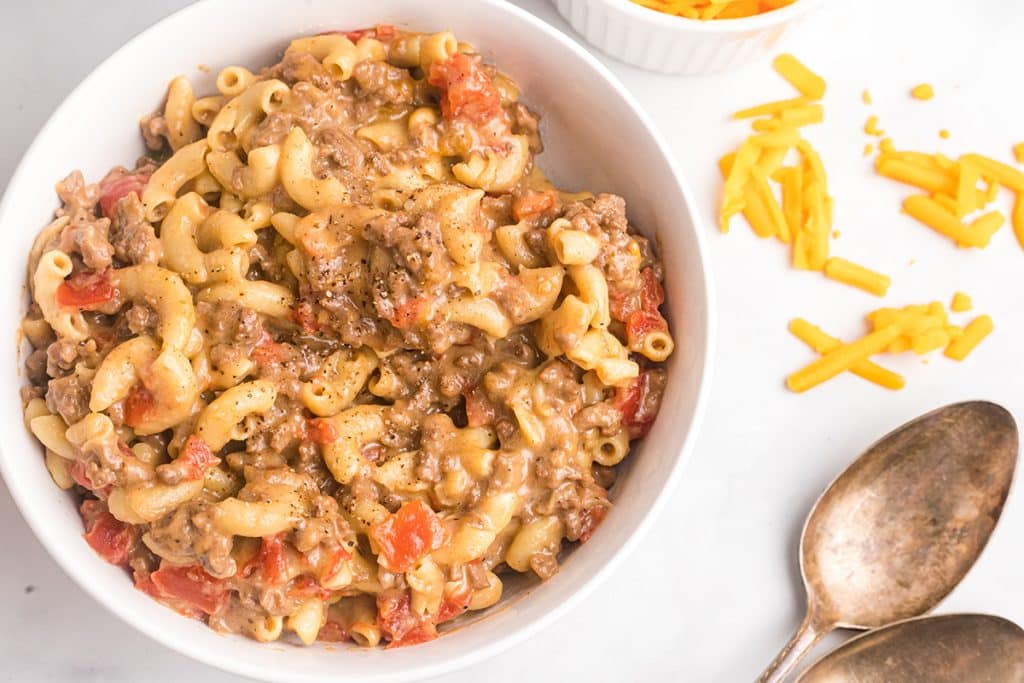 Questions About Cheeseburger Macaroni Skillet
How to make Hamburger Helper cheeseburger macaroni taste better?
First and foremost, use this recipe to make it from scratch! You might need to throw two or three extra items in the car, but it is well worth the effort and takes the same amount of time.
What to serve with cheeseburger macaroni?
This dish has your protein and starch covered so your best bet is going to be a vegetable. Think side salads, corn on the cob, sauteed spinach, or just about anything roasted in the oven. Lots of options to pair with this dish!
Are hamburger helpers good?
Generally speaking, yes, they are good! They could also be better and far less sodium and preservative filled if you make your own at home.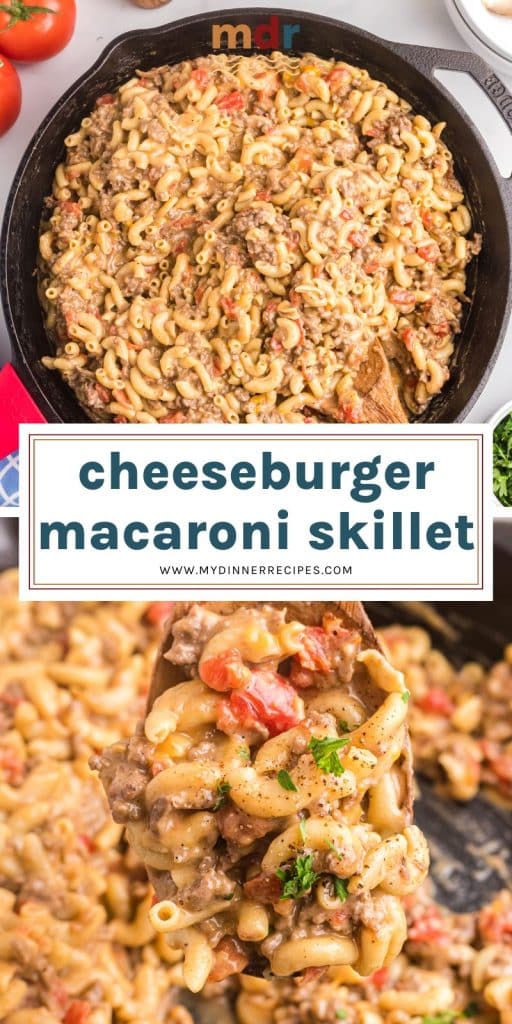 More Easy Dinner Recipes
Chicken Taco Soup
With diced tomatoes, corn, and a creamy broth, your whole family will enjoy this quick and easy Chicken Taco Soup Recipe for dinner!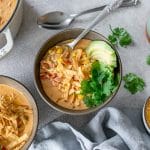 Zucchini Taco Boats
These Zucchini Taco boats are a great way to enjoy that taco flavor you love, while also keeping dinner on the healthier side.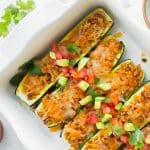 Crock Pot Beef and Noodles Recipe
With chunks of tender beef, egg noodles and gravy to cover it all, this Crock Pot Beef and Noodles recipe is the ultimate comfort food.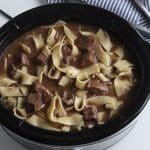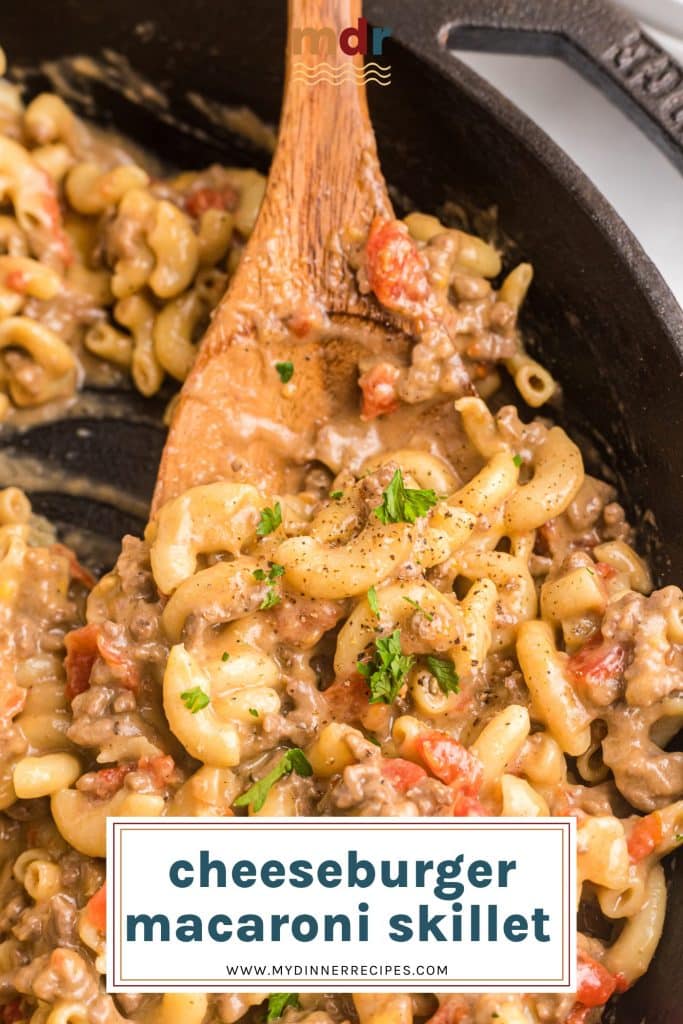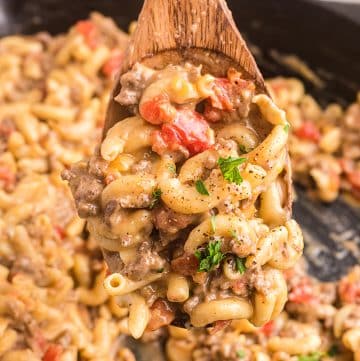 Cheeseburger Macaroni Skillet
Cheeseburger Macaroni Skillet is a great ground beef recipe with cheddar cheese, seasonings, and tomatoes all ready in 20 minutes!
Ingredients
1

tablespoon

unsalted butter

2

pounds

ground beef

1

teaspoon

coarse sea salt

1

teaspoon

ground black pepper

1

tablespoon

garlic powder

1

tablespoon

onion powder

4 1/2

cups

low sodium beef broth

16

ounces

dry elbow macaroni

1

cup

whole milk

2

cups

cheddar cheese

grated

16

ounces

petite diced tomatoes

drained
Instructions
In a large skillet, preferably cast iron, melt the butter over medium high heat. Add the ground beef, salt, black pepper, garlic powder and onion powder, breaking ground beef as it cooks. Brown on all sides, approximately 5-7 minutes.

Drain any excess fat, if there is just a little, don't worry about it. Stir in the uncooked elbow macaroni and beef broth. Spread evenly in the pan, simmering on low. Stir twice to ensure all of the pasta has had a chance to soak up the broth. Simmer for 7-9 minutes, or until pasta is al dente.

Fold in the milk and cheese until incorporated and cheesy. Fold in drained tomatoes.

If you've tried this recipe, come back and let us know how it was in the comments or star ratings.
Nutrition
Calories:
904
kcal
Carbohydrates:
67
g
Protein:
51
g
Fat:
48
g
Saturated Fat:
21
g
Polyunsaturated Fat:
2
g
Monounsaturated Fat:
17
g
Trans Fat:
2
g
Cholesterol:
155
mg
Sodium:
1187
mg
Potassium:
1281
mg
Fiber:
4
g
Sugar:
8
g
Vitamin A:
666
IU
Vitamin C:
7
mg
Calcium:
393
mg
Iron:
5
mg